This season was a year of firsts for Illinois State University product Paul DeJong.
The third-year shortstop for the St. Louis Cardinals experienced multiple firsts. His first all-star game selection, his first time as a finalist for the Rawlings Gold Glove Award and his first trip the MLB playoffs.
Coming out of ISU as a utility player, DeJong has focused on improving his defense at shortstop.
DeJong ended the 2019 season as his best yet, with a slash line of .233/.318/.444 with 30 home runs and 78 RBIs. DeJong ranks even better on the defensive side of the ball.
DeJong was one of the best shortstops in the league. He ranked first in fielding percentage (.989), putouts (211) and second in least amount of errors committed (7). Other advanced statistics favor DeJong as well. Fangraphs ranks DeJong first with 11.4 UZR, number of runs saved, and 18.5 DEF, average defender ranks at 0.
DeJong and the Cardinals finished a solid season with their first playoff berth since 2015. Playing the Atlanta Braves and Washington Nationals, DeJong finished with a slash line of .233/.303/.267.
JS: What were some goals you had entering the season?
PD: I had a few goals coming in. I wanted to be an a-star, a finalist for the gold glove and a playoff run. The playoff run was the best experience, it was such an incredible experience to overcome and win the division and then beating Atlanta in the NLDS, just a lot of emotions and meaningful. I really got a taste of what that celebration champaign was like. Just a great overall experience.
JS: What were your emotions when you finally clinched a playoff spot?
PD: It felt like a huge weight had been lifted. I felt like we all knew we were going to do it. In the end we got a little timid and tense. After it was finally clinched we loosened up and you saw that in the Atlanta series.
JS: What was the atmosphere like in the playoffs? 
PD: I thought the atmosphere, especially in Atlanta, was super energetic. I really enjoyed the wave of emotions that was going on during the game and the way the fans were getting into it. We did not play very well in front of our home fans so I felt like they were a little lethargic. Overall I feel like playoff baseball was more intense than I expected.
JS: What was the most difficult part about the playoffs that you did not expect?
PD: All the time in between. You really have to take care of yourself and your mind. Just to know when it is rest time, you need to rest, but being able to flip that switch on and off.
JS: What was your reaction to being named a finalist for the Gold Glove Award?
PD: I was pretty ecstatic. Shortstop defense has been something I have been working on pretty hard for the last two years now. For me to be able to prove that to the rest of the league and to myself that I am accomplishing a lot of things. I was not able to win this year but that is a goal of mine.
JS: With six teammates up for a Gold Glove, what does that say about the Cardinals' defensive philosophy?
PD: Getting better at defense was a priority for us going into spring training. Kolten [Wong] and I were working in January taking groundballs. Goldy [Paul Goldschmidt] and Yadi [Yadier Molina] both showed up early. You know what Harrison Bader can do. I think that is a testament to our team, playing great defense and pitching really well.
JS: What are some goals you have for next season?
PD: I like the way I took care of my body last year, with my routine and the way I prepared before the season. I feel like now that I have a pretty good routine, it is more once the game starts and gets going to slow things down rather than trying to go out there and try to create things. I am really just trying to focus on being present and having fun with my teammates.
JS: Playing in more games (168 including the postseason) this year than in any other season, how do you keep your body ready to go for next year?
PD: I'd say physically I was pretty good. I want to continue to work on learning about my body and how to recover better. To me, it is more mental. Learning how to play every day at the big league level and making an impact on the playoffs. I think it is more about being present in the moment and knowing not to get frustrated during a slump.
JS: What are your offseason plans?
PD: Not much, I'll spend some time in the woods, go fishing, see some family and friends and go down to Florida to lift and train. Pretty normal offseason for me.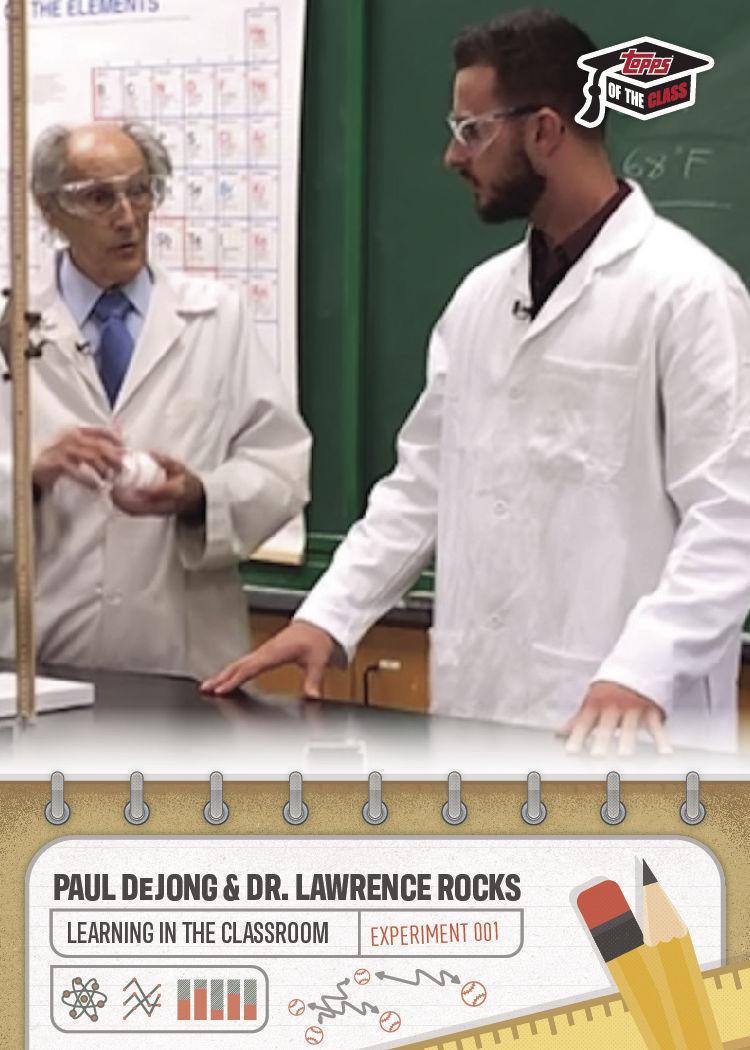 I am partnering up with Topps baseball cards and they are putting me on a card for science and literacy. Sometime in the new year or December, depending on when Topps gets us the cards, we will go around and give those to kids in schools to teach the learning mindset; to be a life-long learner. It is a pretty cool up and coming program.