Being a professional athlete is what every young sports lover dreams of. Watching other pro players on television or in the stands, mimicking their every move. Unfortunately, not many of these kids end up fulfilling their dreams of making it to the bigs.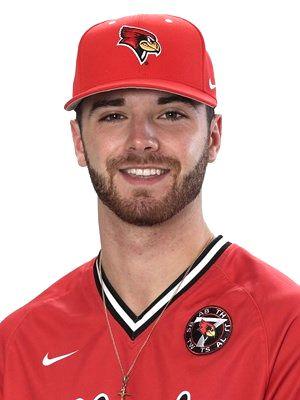 For former Illinois State center fielder John Rave, however, his dreams have become a reality.
"It means the world to me," Rave said. "When you wake up and think about being a professional ball player it's kind of unreal. But I've wanted it, worked for it and appreciate the opportunity."
This opportunity Rave speaks of is a chance that few athletes have. Rave was recently selected in the fifth round (139th pick) of the Major League Baseball first-year player draft by the Kansas City Royals after a stellar career with the Redbirds.
Rave elected to forgo his senior season at ISU, and signed a deal worth $297,500 with the Royals.
He has since begun working with the club at their spring training facility in Arizona, and recently joined the Burlington Royals. Burlington is a rookie level affiliate of Kansas City located in Burlington, North Carolina. They are a part of the Appalachian League.
Officially apart of the Kansas City Royals Organization! Thank you to every single person who has helped me along the way. Thank you especially to my family, coaches, @clrockscorp , teammates, and friends! Excited to start this crazy journey! Let the grind begin 💙 pic.twitter.com/UTZ3wUNsLX

— John Rave (@john_rave) June 10, 2019
"I'm looking forward to learning and adapting to the pro game," Rave said. "I know I need to soak in as much instruction as I can get from the coaches. I understand the work that this takes and I'm willing to do that."
This season in the leadoff spot for head coach Steve Holm and company, Rave had a solid season for the Redbirds. He slashed .297/.377/.502 while hitting 12 home runs and driving in 48.
The Bloomington, Illinois native also had 12 stolen bases, and was named a First Team All-Defense selection in the Missouri Valley Conference for the third straight season. His play earned him MVC All Conference First Team honors.
Rave's breakout season came his sophomore year, where he slashed .347/.402/.571. He had eight home runs and 49 RBIs during that campaign.
This was not the first time Rave had been drafted. Out of high school, after hitting .429 with three home runs as a senior at Bloomington Central Catholic High School, Rave was selected in the 35th round by the Boston Red Sox. But, some advice from a Boston scout made Rave's decision to stay home an easy one.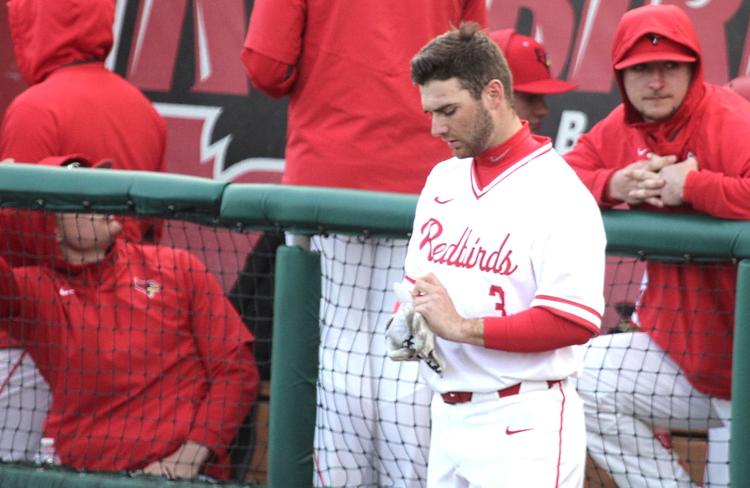 "I really loved the fact that I could have my family see me play," Rave said. "The Bloomington-Normal community was so supportive, it helped me realize what a 'hometown' kid means to a community."
"I also had great advice from the area scout from the Red Sox. He said, 'Go where you will play right away.' I think that was also a very important part of my development. I started on day one (at ISU), so I learned the college game pretty quickly."
From the start, Rave led the Redbird offense during his freshman season. Rave appeared in all 56 games, starting 53 of them in center field. He tallied a .258/.352/.362 slash line. From there, he only grew. Rave credits numerous people for this growth.
"I've been very blessed," Rave said. "I've had great coaches going back to little league and all the way through college. My family has always supported me and encouraged me to work hard and chase my dream. I know it's not always easy and I appreciate that."
Rave also credits Holm for instilling confidence in him and believing he could reach this point.
"Coach Holm was great," Rave said. "He has been there himself and encouraged me to succeed. He was always confident in me and I felt that. His approach to the game helped my personal focus and our team learned how to win. I am very thankful."
Holm, who played collegiate baseball himself for Oral Roberts before moving on to the pros, made MLB stints with the San Francisco Giants and the Minnesota Twins.
Holm is not the only coach who believes in Rave as a pro. Nick Knight, current Central Catholic head baseball coach and former assistant coach on Rave's Saints teams when he was in high school, also believes Rave is poised for a great future.
"John is one of those players that doesn't come around very often," Knight said. "The kind of kid that has a different sound off the bat than others.
"John's work ethic will lead to success. He's never backed down from any level he's been challenged with. He just works harder and puts more work in until he's satisfied. The sky is the limit for John and his drive will get him there."
While Rave has a great support system behind him, he realizes that he will need to continue to work hard in order to reach the top, which would be one day making it to the MLB.
"Baseball is a game of many phases," Rave said. "I hope to improve in all levels. They talk about being a five-tool player but there are more tools I need to understand."
"The mental part, the conditioning part and the recovery part are all off the field skills that are also very important. I appreciate guys who work hard and play smart, and that's what I want to give the Royals organization."
Rave's season with Burlington began Tuesday, where his Royals team traveled to Bristol, Virginia, to take on the Bristol Pirates.
In his first ever professional action, Rave went 4-5 from the leadoff spot with three runs scored and an RBI.