The Illinois State baseball coaching reboot continued Friday with Steve Holm announcing the hiring of another coach with previous ties.
Dane Fujinaka, former player under Holm at Sacramento State, has been hired as an assistant coach for the Redbirds.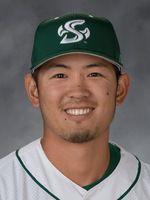 "I'm extremely excited to be a part of the Illinois State baseball family," Fujinaka said, "as a player at Sacramento State, I had a lot of fun and learned a lot from Steve and I feel very fortunate for the opportunity to now work for him."
Fujinaka, 25, played three seasons at Sacramento State and finished his collegiate career at Menlo College, where he started in all 54 games.
"I am happy to announce that Dane will be joining the Redbird baseball staff," Holm said, "he is a young, eager up-and-coming coach who will be our first base coach, work with the catchers as well as assisting in recruiting."
The Aiea, Hawaii native then took an assistant coaching job at Menlo in 2016.
After one season coaching at Menlo, he returned to Sacramento State mid-season in 2017 as a volunteer assistant coach.
He was then named the Hornets catching coach for 2018, when Sacramento State went 35-25 and ended its season in the Western Athletic Conference championship game.
"Dane was one of the most competitive players I ever coached and I can't wait until that rubs off on our players. I would really like to welcome Dane to Normal and the Redbird baseball program," Holm said.
The addition of Fujinaka is the second hiring made by new head coach Holm after Wally Crancer was added to the staff Wednesday.