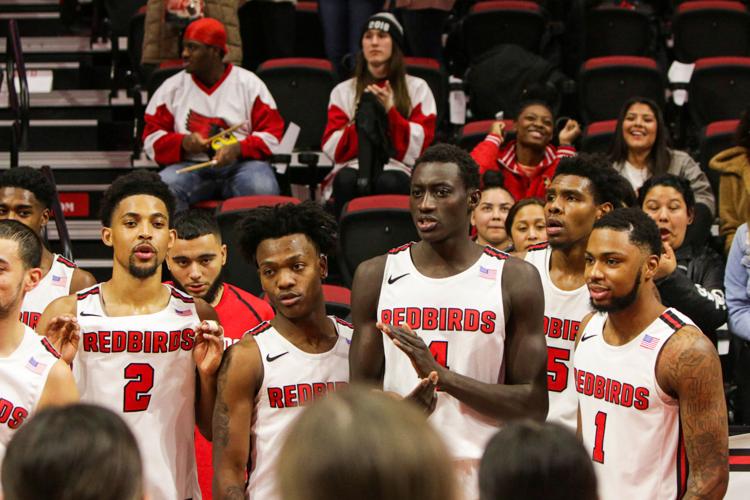 We are now a little over halfway through Missouri Valley Conference play.
Since the beginning of the MVC ISU has sputtered to a 2-8 record, with wins over No. 1 Northern Iowa and last place Evansville.
With that being said here are grades for some of the Redbirds' most impactful players: 
Zach Copeland | Senior | Previous grade: A-
Zach Copeland remains the Redbirds' top scorer, averaging 15.6 points a game. Copeland is keeping pace with his non-conference numbers shooting .407% from the field and .403% from beyond the three-point arc. But that is not where the problem lies with the senior guard. Copeland leads the team with 31 turnovers with just 13 steals. Copeland's troubles with turnovers came to light when he sat against Indiana State. 
C-
Ricky Torres | Senior | Previous grade: D
Ricky Torres is basically playing the same role as the last grading: fine if not under average. The senior point guard has not moved the needle much scoring wise but does lead the team with 30 assists in Valley play. Overall Torres has not done much to move the needle.
D
Jaycee Hillsman | Redshirt senior | D-
Hillsman struggled during non-conference play but has finally lived to expectations as one of the Redbirds' most consistent player during Valley play. Averaging 30 minutes a game, ISU head coach Dan Muller has been leaving the San Jose transfer on court as long as possible. Hillsman has also managed to raise his average rebounds up nearly one rebound per game with five.  
B+
Keith Fisher III | Redshirt junior | B-
Fisher has played well in the MVC, including recent games against Evansville and Valparaiso that earned Fisher MVC Newcomer of the Week. In the last round of grading I noted that if Fisher were able to stay on the court he would be a solid contributor for the Redbirds. And while he does lead the team with 32 personal fouls in the Valley, Fisher has improved to lead the Redbirds with over six rebounds a game while ranking fourth in scoring with 9.9 points per game.
A-
Rey Idowu | Sophomore | C-
The sophomore forward had early struggles that seemingly put him in Muller's doghouse. Since the start of MVC play Idowu has averaged just 2.4 points a game. The 6'9" Idowu did not play over 10 minutes in four straight games including no minutes against Bradley. But even in limited time against Evansville and in a longer showing against Valpo, Idowu looked more comfortable offensively. But his early struggles outweigh any improvements.
D-
Dedric Boyd | Redshirt sophomore | C
After ranking second on the Redbirds with 8.8 points a game during non-conference play, Boyd has been trending in the opposite direction in the MVC. The Eastern Kentucky transfer is down to just 4.4 points a game. Boyd has only been in double digits once in the Valley, 15 against Loyola.  
D
DJ Horne | Freshman | B
Despite having some cold stretches this season, Horne has been one of the best Redbirds in Valley play on both sides of the ball. After getting thrust in the starting spot due to his defense, Horne has backed up his play offensively ranking second on ISU's team averaging 10.8 points.  
A-
Antonio Reeves | Freshman | C+
Reeves has played some solid minutes off the bench despite some slight regression from the first year player. But despite a mild step back Reeves still ranks fifth on the Redbirds with 6.8 points.
C-
Abdou Ndiaye | Redshirt freshman | C-
The 6-foot-9 first year player has been giving ISU good around the rim. In just 12 minutes per game, Ndiaye is averaging 3.4 rebounds a game with 10 blocks. Muller has been favoring Ndiaye instead of sophomore forward Rey Idowu.   
B