Illinois State nabbed its first win of the season Sunday.
The Redbirds bolted out of the gate with a third-minute goal by Abby Basler, her first of the season, and sailed to a 1-0 win over Eastern Michigan University.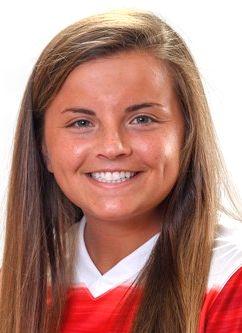 ISU head coach Brad Silvey revealed, "We challenged our team to push for an early goal, and they obviously stepped up and responded to that challenge," Silvey said. "Abby Basler, getting her first goal of the year after being out all of last season; just a really good moment for her and for the team."
After that fast goal, the teams engaged in a struggle for control of the ball. On many of the ensuing possessions after the initial score, the ball went out of play.
"We went into a little bit of a lull after that, kind of took our foot off the accelerator, but we were able to work ourselves back in and create a lot of good opportunities."
When the first half ended, ISU dominated the shooting ratio, leading 13-3. It seemed like ISU would continue its dominance in the second half, but EMU ended up outshooting ISU 11-6 after halftime.
Silvey saw that EMU made adjustments, "They had actually changed things tactically, they dropped a player lower, we had a hard time dealing with it," Silvey said. "From a fitness standpoint, they played on Friday, we played on Thursday, I thought that we would have a little more gas in the tank ... That's all credit to Eastern."
Haley Smith recorded her first shutout of the season, and the defense played incredibly well. Towards the end of the game, ISU's defenders made several desperation clears.
"I definitely want to give props to Haley. Tate Barney stepped in as our central back and I think she did an excellent job. I also want to applaud Brittany Paganucci. Brittany subbed in and made some crunching tackles — some gave saving tackles in the box; some desperation tackles."
The Redbirds utilize Haley Smith's passing ability to reset their offense more than their opponents.
"She's very comfortable receiving back passes and changing the point for us, and pushing the ball out into different areas of the field," Silvey said, "That's something that she's gained over her time here, and again she's very confident in those moments, and we're obviously confident in her back there."
ISU will now play in seven straight road games, starting with two games against Oklahoma and Tulsa.
When preparing for the long road trip, Silvey said, "It's good to be able to leave Adelaide and to have a little bit of the momentum and something to kind of encourage us while we hit the road for an extended period of time."
The first opponent on that road trip is Oklahoma.
"They're tough," Silvey said. "Back then [in Silvey's first season with ISU], they ran a lot of set plays. They're a much more physical team, so that's something we're gonna have to adapt to."