Even as a little kid, Illinois State sophomore defensive end Romeo McKnight knew football was in his future, but what he did not realize was the winding path he would take to fulfill his dream.
He always asked his mother about playing tackle football, but the response was always, "No, you can play flag." In about fourth grade, the answer finally became a "yes."
All along, he knew football was what he wanted to do, and college football was a vivid goal.
It started when he was the water boy of the local high school varsity football team from third to sixth grade.
"That's the first time getting to experience [being] under the lights, and I looked up to all those guys. I feel like that had a big role in how I got ready to play," McKnight said. "Playing on varsity for the first time and that kind of emotion … that was special for me and something I will remember forever, just being able to be like the guys I looked up to."
McKnight was born in South Bend, Indiana, but later moved to Illinois and attended Crystal Lake Central High School.
He developed and grounded his athleticism as a two-sport athlete in wrestling and football.
As a Tiger, McKnight won the Illinois Class 2A State Championship as a 220-pound junior wrestler and earned All-American honors three years straight.
Playing two physical sports, as well as both defensive end and running back, his toughness grew and he carried it with him into the future. It's what helped create his explosiveness and quickness that he displays on the new Hancock Stadium turf this year.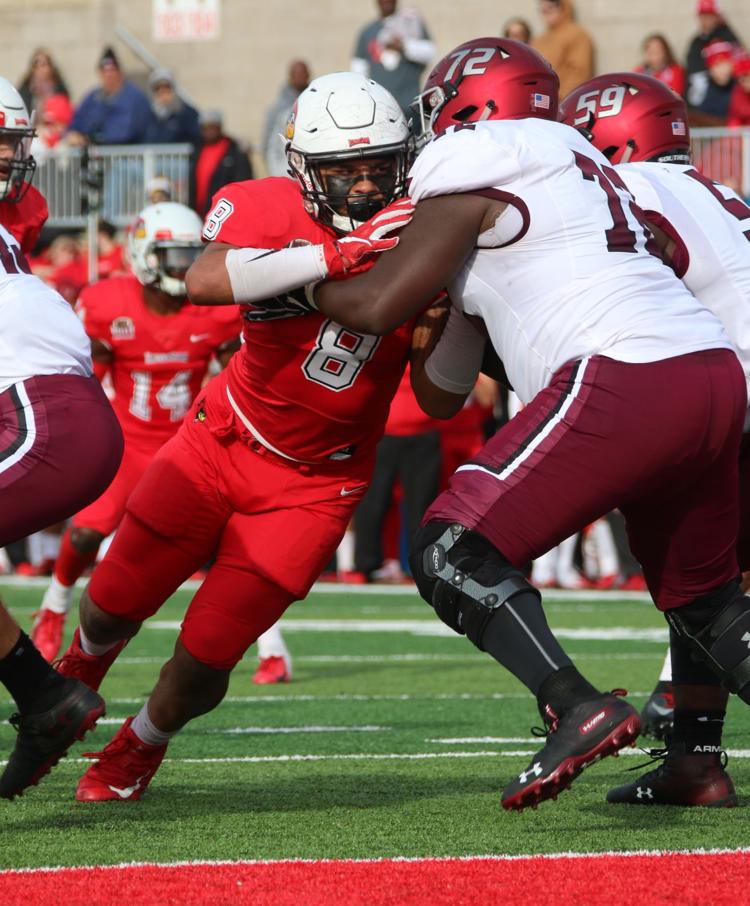 McKnight committed to play at Iowa before his senior season even began, and was then the No. 9 ranked prospect after senior year, fielding nine Division I football scholarship offers.
Usually when everything flows well and all is settled is also when life tends to step in and twist the story.
McKnight suffered a knee injury fresh out of high school that set him back at Iowa, then just as he regained healthiness, another blow to the knee kept him out his second year.
He never played a snap as a Hawkeye, but the Big Ten mentality and what he learned from Iowa is forever ingrained.
"I'm still thankful that I went there, and I got to be around the people. They played a huge role in my development, even now," McKnight said. "They helped me pretty much get back to 100 percent. The strength and conditioning there, they got me in really good shape, and I got to be around some really good coaches and a lot of really good players. Being in that type of atmosphere, you grow physically, mentally and as a player."
Facing two knee injuries back-to-back and never playing a down at a historic football university is about the harshest it could get, but McKnight did not panic, as he looks to the bigger picture.
"Nobody wants or plans for adversity, but I've always believed it's how you respond to it. When I was going through my adversity, I just tried to take it a day at a time. It was every day, just, 'Alright, win this day,' just keep winning the days and eventually you're gonna look behind and you're gonna have a lot of won days … The little things that people see as not significant, I tried to make sure that I did those little things every day and it paid off for me," McKnight said.
Now removed from injury, McKnight has unfinished work, and he believes Normal, Illinois is the right place to complete it.
In fact, ISU was at the top of his list when he decided to transfer from Iowa.
"I had met Coach [Brock] Spack. They were one of my first offers, so when I decided that I was looking for another school, they were one of the first … They believed in me, and I understood what type of conference this is, one of the best that I think there is in the FCS and how competitive it is. It's close to home, and I thought this was the best place to help me get to the next level."
It is not just a matter of staying healthy and winning games, but McKnight has big plans, and he is on his way.
"Romeo McKnight is getting better and better and better, and he hasn't even touched where he's going to be, I don't think, at least where I think he should be. I hope he and I have the same idea of how good he can be, because if that's the case, he's going to be real good, real special," ISU head coach Brock Spack said.
Luckily for McKnight, he does have the same mindset. There is always room for improvement. It is still just his first season with ISU, and he is still working back from injury.
"Spack is always on me, he believes in me. My goal is to play in the NFL, and in my opinion I'm not close to that, and I know I have a lot of room to grow. Not just technique, but in the weight room, physically and mentally as a player," McKnight said. 
There is never a time to stop working or learning, especially if the end goal is to be playing among the best athletes in the world. 
While the 6-foot-5, 250-pound defensive end has certainly made strides in a Redbird uniform, there is more unfinished work than there is finished. 
After six games this season, McKnight leads ISU with three sacks, seven quarterback hits and seven tackles for a loss. The latter stat is good for 10th in the MVC.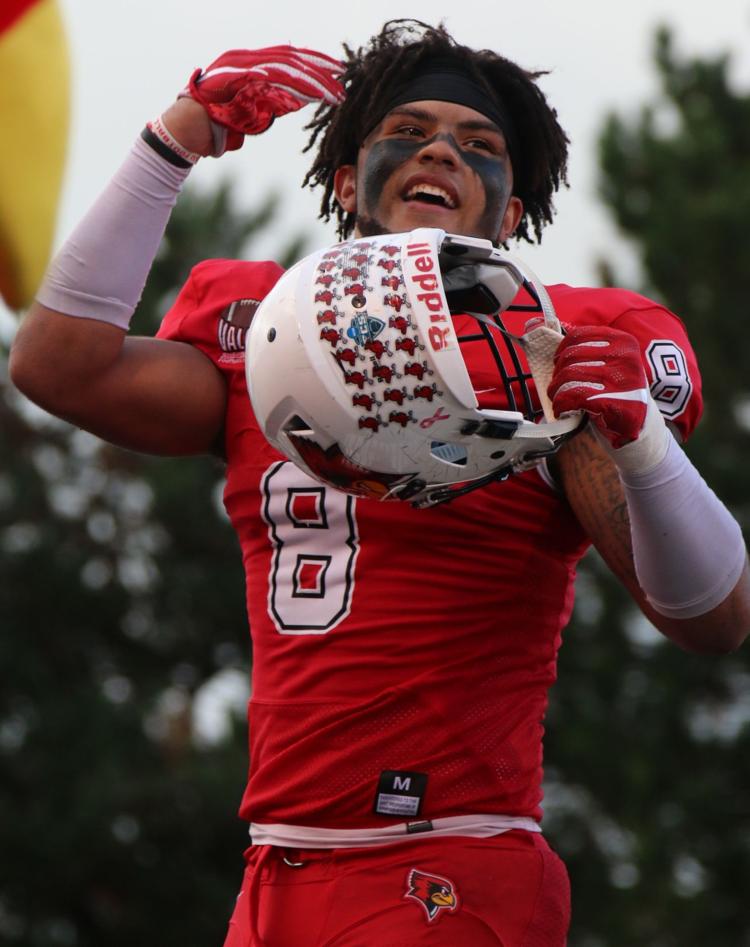 Exactly what McKnight said, the key to any good athlete becoming a great player is putting the trust into his/her coaches. Being coachable, able to listen to the message rather than the tone and correcting any mistakes.
Spack believes McKnight checks all of those boxes off, giving him greater potential.
While ISU fights for its first playoff berth in two years, first playoff win in three years and its first-ever FCS National Championship, McKnight is guaranteed to continue working hard every day.
He also keeps the motivation of a bigger picture and perspective in mind as he builds towards his future.
"I have little things throughout the day that motivate me. There's a lot of people that don't get to play college football, and there's a lot of people who are a lot less fortunate, so I try and take this opportunity and try to make the best of it," McKnight said. "Not just for me, but for my family and everyone that's stuck by my side through the highs and lows, the people that told me I couldn't do it in high school, and to see the progress I've made keeps me motivated to just keep going. I'm trying to take this thing as far as I can."
As a sophomore, McKnight will have two years of eligibility remaining at ISU after the current season ends, which gives vital time for him to build on his childhood dream.