The weather Thursday was less than picturesque. The sky was filled with dark clouds, promising rain and bringing a constant wind that dropped the temperature down into the 50s.
It was the type of weather that kept the Quad at Illinois State University empty and class attendance low. The few students who were out hustled from building to building with raincoats zipped up to their chins.
Despite the unpleasant weather, one Illinois State student-athlete was not seeking shelter, instead senior golfer David Perkins was out practicing at Weibring Golf course.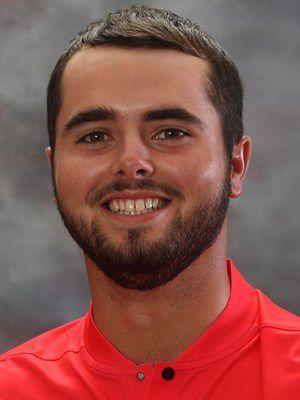 Perkins, an East Peoria native, has started his senior season in impressive fashion, shooting under par in all nine rounds he has played in so far. He has also been named Missouri Valley Conference Golfer of the Week twice this season, making it the ninth time he has won this award in his career.
"None of this surprises me," head golf coach Ray Kralis said about Perkins' recent play. "His game, like I said, is just so complete from tee to green without weaknesses. Early on I think those who've been closest to him have known this, that when he starts to believe in himself, watch out."
Perkins admits that his journey to Division I golf started later than most of his peers.
"I played as a kid, but I played a lot more baseball. I was in love with baseball probably until freshman year of high school," Perkins said smiling. "I quit baseball to take more time on golf. It was a tough conversation to have with the baseball coach but that was kind of the time period where I decided I wanted to put a lot of work into this."
"My dad was a big influence," Perkins added. "He kept me out hitting balls and playing; he's the one that introduced me to the game."
Once he started golfing it was not long until he found success in the sport. As a freshman Perkins was a varsity starter and at state during his sophomore year, he finished fourth place overall. Perkins consistently improved each year, dropping his 18-hole average from a 76 as a freshman in high school to a 72.5 by his senior year.
"It's been a strong trajectory always," Kralis said about Perkins' improvement. "His consistency is so much better now, but consistency has always been a strength."
"I've seen almost every part of my game has gotten a little better," Perkins said about his improvement as a Redbird. "Definitely my wedges and driving the golf ball has gotten a lot better. I feel really comfortable on most holes, where we go, with the driver."
Perkins' improvement and success on the course is not by accident, according to Kralis, "He just puts in the work and he wants it. He doesn't let failure set him back. Sometimes good can be the enemy of great but he doesn't settle, and he continues to push himself."
All of Perkins' hard work has culminated in his first individual medalist honors at the 2019 Golfweek Conference Challenge in Cedar Rapids, Iowa, on Sept. 17.
"I'm going into that last round like 'You know what? Let's just have some fun,'" Perkins said about what was going through his mind during the last round of the tournament. "Just 18 holes to play, and I did have a rocky start, but I battled back and I made some birdies coming in, and to have coach with me in the last couple holes was cool. We knew where I was at and all I had to do was get [the ball] in the hole. It felt really, really good."
Looking forward, there are still a lot opportunities left for Perkins and the Redbirds. Both Perkins and Kralis have some big goals.
"I want to get through conference with the guys. We want to win as a team," Perkins said. "Individual wise I would like to have another crack at player of the year."
"I think the most important thing for him is recognize that is that anything he wants to accomplish in college golf is within his reach. I mean it's all possible," Kralis said. "I hope he plays at the regional and moves on to the national and competes for a national championship."
Currently, according to Golfweek, Perkins is ranked 12 individually in NCAA Division I.
"He wants the team to do well and cares deeply about the program and is appreciative of the opportunities he's had here, and he's made the most of them which is really all you can hope for from a coaching standpoint," Kralis said.