Illinois State's motto of "once a Redbird, always a Redbird" remains true for one women's basketball player who will not look back on her time here. Senior Simone Goods looks to her future as she's hopeful about many possibilities once she leaves ISU behind.
The Omaha, Nebraska, native is one of ISU's top scorers as she dominates the court offensively, averaging 17.5 points and 7.6 rebounds per game this season. But how did Goods become the powerful weapon she is on the court today?
Goods recognizes her best friend in seventh grade, her brother, D'Angelo Goods and her father, Charles Murphy, as the main people that influenced her to play the sport that she has come to love.
"I just hold onto his every word," Goods said of her father. "He's been instrumental in everything that I've done, and he supported me day in and day out."
As Goods made her decision to play basketball in eighth grade, her passion grew for the sport, and her bond with her father grew larger.
High school was only a warm-up for Goods as she was a key player during her senior year, when her high school team went undefeated during the regular season and averaged 12.3 points per game.
After high school, Goods took to Western Kentucky and had a slow start to her career, only averaging 2.6 points and 2.3 rebounds per game.
After transferring to Kirkwood Community College for her sophomore year, Goods made a name for herself and for her game. She averaged 16.2 points, 8.2 rebounds and 1.7 blocks per game, not to mention, Goods averaged 67.9 percent from the field at Kirkwood.
Although Goods was just starting to look good, she felt like she wasn't home.
"I really tried to focus on what I really wanted out of a university, out of a coach, out of teammates and things like that," Goods said. "It was like I was waiting for something to speak to me."
Turns out, ISU spoke to her in an unexpected way. As Goods started her search for a perfect home, she kept a mutual friend in mind.
"It's funny because my best friend's ex-boyfriend knew Coach [Kristen] Gillespie," Goods said.
Goods had already declined ISU's invitation. However, since Goods and Gillespie had a mutual friend, they came into contact with each other and developed a bond. During her visit, Goods remembers her natural experience with meeting the coaching staff and the moment she knew she was home.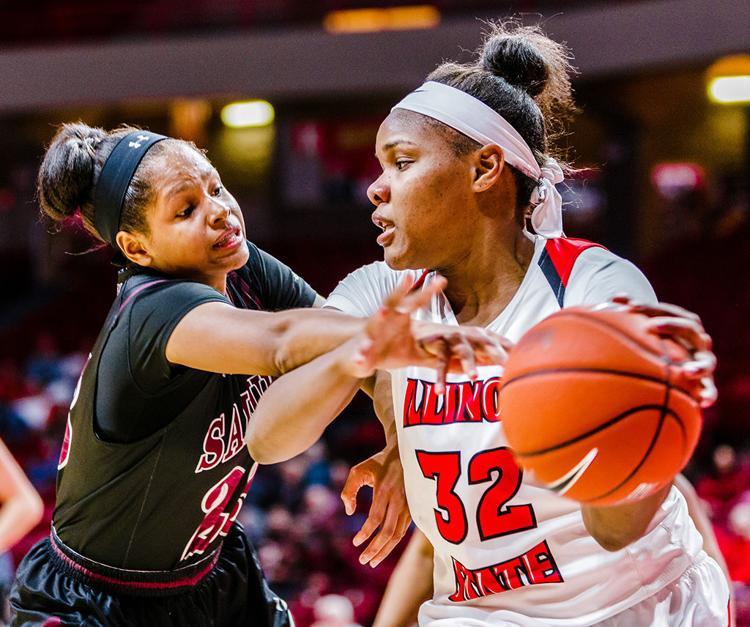 "There was no pressure and I felt like they really wanted me, and they were very interested in me," Goods said. 
Although none of her teammates were there to meet Goods during her visit, she felt a special bond between her and the coaching staff and she knew she wanted to be a Redbird.
When Goods is faced with difficulties, she takes a step back and realizes how far she has come. She has expressed how her teammates bring her back to reality after facing the challenges of a slow start to her career.
"I really had to mature. I really just wanted to get back to being happy, that was my biggest challenge," Goods said. "I overcame it just by being around good people and being able to contribute to wins."
As the reigning MVC Newcomer of the Year approaches graduation, Goods looks back to the memories and moments she has made with the team and coaching staff. 
"I'll definitely miss my coaches and my teammates the most. They're a very lovely group," Goods said. "I'll miss the people, the support that we had, and the die-hard fans, like, we have some serious die-hard fans." 
Goods mentioned that she loves the "once a Redbird, always a Redbird" motto and she looks forward to still being involved with ISU as an alumna.