From Bob Knight to John Calipari to Mike Krzyzewski, a basketball team's coach can be the most important piece.
In the Missouri Valley Conference, this idea is no different and even more applicable during the 2020-21 COVID-19 season. MVC coaches like Porter Moser and Brian Wardle have shown in recent years that coaching can be the difference in a tight matchup during the tournament.
Wardle especially has been impressive with getting the most out of his Bradley team. In the last two seasons, the Braves have walked into St. Louis as a middle-of-the-pack team but has left as MVC champions.
Illinois State head coach Dan Muller should look to Wardle to rally his team.
As one of the youngest teams in the MVC, Muller has admittedly not had an easy task leading ISU. Immaturity factors have plagued the Redbirds throughout the last two seasons.
But Muller has done little to inspire hope in fans.
While young, the Redbirds are not untalented. ISU has found consistent scorers in DJ Horne (15.3), Antonio Reeves (12.5), Josiah Strong (11.7) and Dusan Mahorcic (9.6), averaging close to or over 10 points a night. Arguably the most talented players, they have been able to thrive off of their talent while others have struggled.
Often times in press conferences after games, Muller notes how while two or three players will play well, the rest of the team does not "know how to win." Now, this is a troubling sign to me. This seems like an easy opt-out for Muller to place the blame on his young team.
Increasingly over the last three seasons, Muller's responses have become more and more troubling. Quotes such as "how about they just play better" and "we were not ready to play" make me increasingly concerned the Redbirds will have a short stay in St. Louis.
I have not been the only one with concerns about Muller's coaching. Redbird Twitter fans and ISU fan forums have made it clear that this sub-par play and coaching is getting old.
Accounts have even surfaced on Twitter dedicated to ridiculing Muller with accounts such as one named "Did Dan Muller Get Fired Today?" While another, "Days since Illinois State Basketball went Dancin" which updates every day with how long it has been since the Redbirds' last appearance in the NCAA Tournament.
Despite these fans wanting Muller gone, he did not seem concerned with losing his job in the final MVC Coaches conference call of the year.
"No I am not concerned," Muller said. "My job is to try and win the next game. We have got a good young group. I have to do a better job. My focus is on Thursday and helping this young team grow. Right now my focus on this group getting ready for Thursday."
Despite not being worried about his job, Muller should. Over the last three seasons, the Redbirds have a record of 34-54 (.386) and three straight trips to a Thursday play-in game for Arch Madness.
This season marks the low-point of the Redbirds' three-year downswing. ISU finished the season 7-17 and 4-14 in conference play. Conference play was not pretty for the Redbirds as they won just 1-of-9 series and split series with Evansville and Southern Illinois.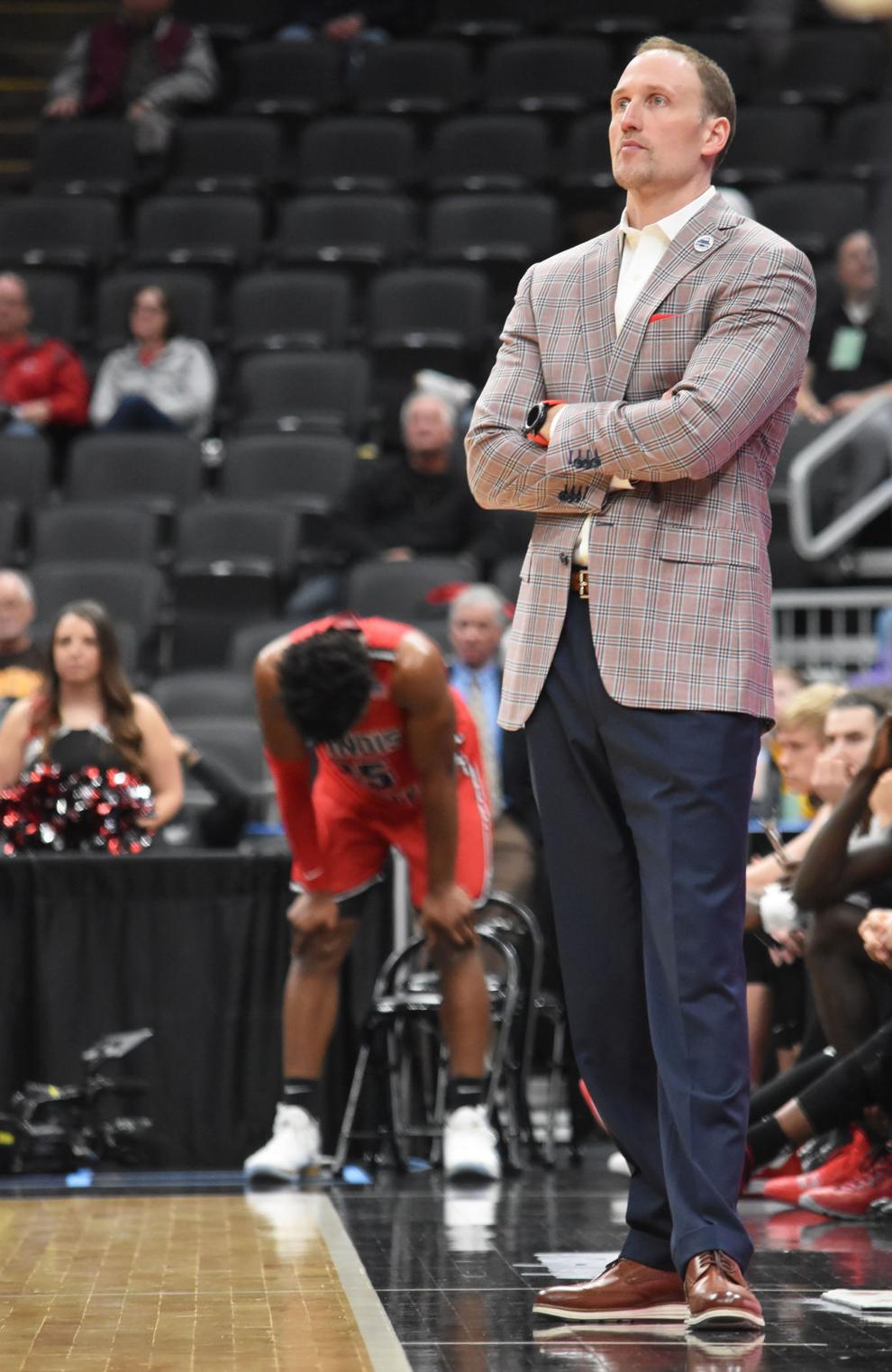 Going into ISU's match-up with Northern Iowa on Thursday, there looks to be little reason for optimism. Over the past weekend, UNI came to Normal and swept the Redbirds.
Not only did the Panthers manage a sweep, but Muller was also outcoached by UNI's Ben Jacobson. In game one, ISU could not get anything going offensively before they withered away with eight minutes left to lose 70-56. Despite improvements in game two, the Redbirds still were unable to seal the deal. After leading by as much as 10 in the second half, the Redbirds collapsed leading to a double-overtime 94-87 UNI win.
Fresh off that series, there is little reason for me to be confident in ISU unless Muller improves on the coaching side of the ball.