The Redbirds are currently 1-0-1 this season and head women's soccer coach, Brad Silvey, hopes to keep up the improvement.
The changes that Silvey and his team made began in the summer, when he started to address a key issue his team faced: leadership.
"Coming out of our last season, we sat down as a staff and as a team and we shared a lot of conversation about how things need to improve," Silvey said. "One thing that stood out like a sore thumb was our leadership, not to say we didn't have leadership in place, but it needed to grow."
As growth breeds progress, Silvey also asserted that newfound leadership has come with the team's work ethic.
"We've established a leadership group, not to say we only expect leadership from them, but we work with them to map out the needs of our team," Silvey said. "Our success is based on how well we're going to be able to come together as a team."
Players such as Kate Del Fava, Abby Basler and Ashley Santos all strive to lead the charge for the Redbirds. While leadership is at one end of the spectrum, Silvey also admitted the team could be better from a gameplay standpoint.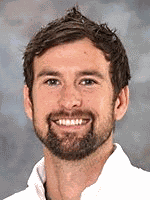 "In all honesty, holistically, we have to do better," he said. "We were very average last season and we didn't score enough goals, didn't stop enough goals, we weren't gritty enough … we didn't know how to go out and win games."
With a new strategy comes new people as ISU faces some new opponents out of conference this season.
"I like our non-conference schedule, some Big 10 teams," Silvey said. "New teams like CSUN, Toledo, some programs that have been successful and done well in their conference play. We'll really know where we're sitting by the time our conference season rolls around. Our opponents are well tested and have a lot of varieties in their style."
When speaking of style, Silvey has some expectations about what his team's philosophy will be this season.
"What I want our style to be is a very possession-based team that has good technical skill of the ball," Silvey said "has a forward thinking mentality, we want to be threatening … off the dribble, through passes, linking passes, being direct and putting the ball behind defenses. In an overall and holistic style, we want to be gritty, extremely fit, tenacious, always wanting more."
Preaching a do-or-die mentality, Silvey stays consistent in his expectations for the season.
"I really want that gritty, never say die mentality," he said. "We want our players to think and be creative, to express themselves on the field in a way that's comfortable and fun and enjoyable. We want to be a product on the field that our fan base, [students] and parents enjoy watching.
Overall, Silvey looks to improve this season.
"Expectations this year are growth, development and improvement," Silvey said. "Over time, the results take care of themselves because players bought in. We need buy in, leadership, and a unified effort, [then] we'll have a remedy for success."
Amid ISU's first win of the season, the spotlight shined on junior goalkeeper Haley Smith as she held Eastern Michigan scoreless Aug. 19.
Smith saved 13 shots between the first two Illinois State soccer games, earning herself Missouri Valley Conference Defensive Player of the Week, announced by the league Aug. 20.
Illinois State begins their seven-game road trip visiting the Oklahoma Sooners at 7 p.m. Friday and Tulsa at 1 p.m. Sunday.
The Redbirds return home to host the Omaha Mavericks at noon, Sept. 16.