Most would agree with the saying "Practice makes perfect", regardless of what the task at hand is. Illinois State University gymnast Angelica Labat takes that saying seriously and strives to perfect the art of practicing.
Flying under the radar out of high school to the Midwest Independent Conference Newcomer Gymnast of the Year, Labat quickly found her footing at Illinois State. While head gymnastics coach Bob Conkling admits to being late on finding the gem that was Labat, both seem grateful for the eventual success that was found.
"One of my former gymnasts that is a coach out in the area that Angelica lives in texts me and says, 'You need to look into this Angelica Labat, she's a superstar,'" said Conkling.
"We got her out here and had her for a visit and offered her. It was pretty much that quick."
While Conkling took a chance on the gymnast out of Virginia, concerns arose at the beginning of the season. Not due to the talent that Labat equipped, but more so who she was on the inside.
"Angelica is the type of kid that is very quiet, and she doesn't open up right away. We were concerned about that on the recruiting trip because she didn't really say much and she seemed off in her own little world, but that is just the way she is," said Conkling.
Whether she was in her own world or daydreaming of her next four years in Horton Fieldhouse, Labat reminisced on her ISU visit differently than Conkling.
"I chose ISU because when I came on my visit everybody acted like they already knew me, and I know it sounds kind of corny, but it actually felt like family. And that is my second family now."
Soon after joining the Redbird family, the work was just beginning for Labat. With 14 years of coaching at ISU, Conkling had more than enough experience to coach Labat, but she would practically coach herself throughout the early stages of the season.
"Angelica, she's stubborn in the gym, and it's stubborn in a good way," Conkling chuckled.
"She really wants to finish strong; if she is struggling with a release move or a routine, she gets a little frustrated. She's the type of kid that will tell you straight up, "I want to win, I want to be good, I want the team to be good." She's just that kind of athlete that wants success and she works hard for it, and she is determined that she is going to help the team win and she is determined that she is going to do her part."
Conkling later confessed that it took his coaching staff quite some time to learn how to coach Labat. Despite never being seen whining or complaining, Labat's increasingly frustrated mentality seemed to overwhelm her from time to time due to her inability to be perfect.
"I'd say 'let's just call it quits and move on,' and she'll just get back up and do it again and again until she gets it right," said Conkling.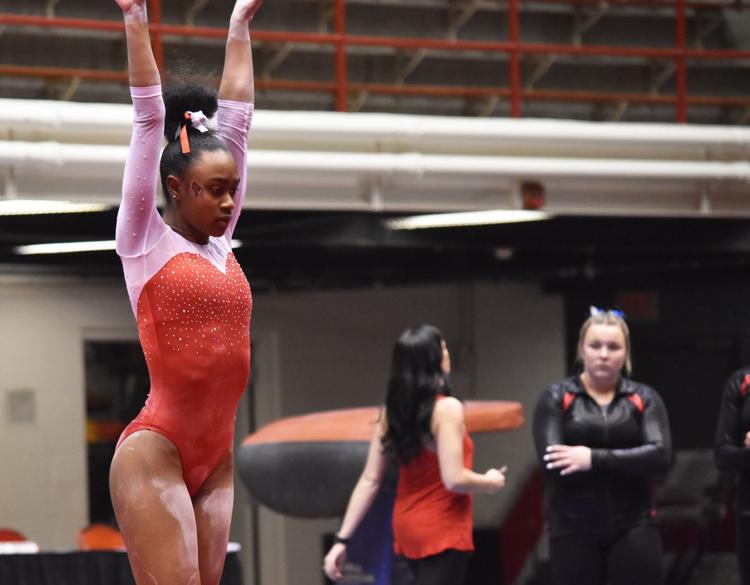 Many could not have envisioned the glorious freshman campaign that Labat was capable of, but as the stubbornness built up, perfection was the only outlet.
As the season progressed, honors began piling up on the freshman's plate. Racking up eight awards on the shortened season headlined by the MIC Newcomer of the Year, she also received two MIC Gymnast of the Week honors, two MIC Performance of the Week awards, and three MIC Newcomer of the Week awards.
Labat recalled what her original goals and aspirations were heading into the 2019-2020 season.
"My expectations were to help the team in every way possible. I realized that it is more of a team sport now than it is individual like it was in club. So, everything I did, I did it for the team." said Labat.
With two weeks left of competition being suspended, including the MIC Championship hosted by ISU due to the COVID-19 pandemic, Labat was quick to turn the spotlight off of her and more toward her teammates.
"I felt bad for all of the seniors, not only here but at every school. I was hoping that we would get something to make up for it," said Labat.
Instead of being focused on the lost opportunity to be named a champion in the conference, Labat realized that she still had three more chances to compete at the MIC Championship, while the graduating seniors did not.
Conkling knew that Labat had a chance to triumph at the Conference Championship, if she could compete consistently down the stretch.
"She put a few meets together where she did really well, but she never put a meet together where she did her best at all four events. If she had done that, I honestly believe she probably would have been the Conference All-Around Champion. If you take her top scores and add them together, there's no one in the conference that even comes close to what she had, except for maybe Gabby (senior Gabrielle Cooke)," said Conkling.
"The capability was there for her to have a really stellar conference meet."
With high expectations for his freshman phenomenon, many can only wonder what the final scores may have been.
Having already proven so much in just her first year, Labat looks forward to next year, surely with eyes on taking the step up from MIC Newcomer of the Year to MIC Gymnast of the Year.