Winning fixes everything, right? Seems to have done the trick for the Illinois State University women's basketball team, as a winning culture has grown from the ground up since the Kristen Gillespie era began in the 2017-2018 season. Gillespie has turned the program around with a 52-38 record, with three constants being present: Simone Goods, TeTe Maggett and Juliunn Redmond.
Each of these women have put together impressive careers at ISU, so much so that all have brought home the Missouri Valley Conference Newcomer of the Year award over the past three consecutive seasons. The trio made MVC history, becoming the first to three-peat the award in the conference's illustrious archives.
Gillespie spoke highly of the award winners, realizing their unlimited potential before most could.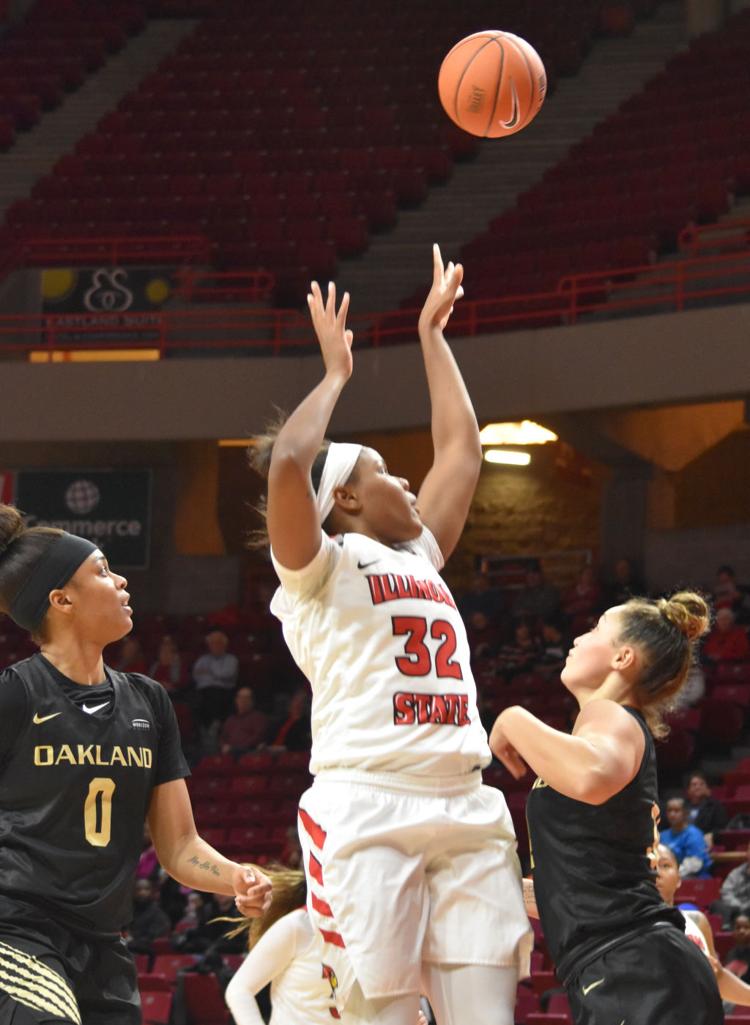 "Simone, she was in our first recruiting class, we were so fortunate to sign her late. To have a player of her caliber still available, we knew she would be an impact player from the moment she stepped foot on campus," Gillespie said.
"TeTe was just so different, she's such a dynamic playmaker, but she had the same impact. The ball was in her hands for the last two years and I really think she elevated our program. Simone laid the foundation and Tete took that next step for us. Then with Juju's play once conference hit, she really found her footing so to speak. She really started to blossom and became the player we knew she was going to be; she just impacts the game on both ends in so many different ways with her versatility."
The three Redbirds each brought a different skill set to the table, Goods' vicious post play, Maggett's scoring habits and Redmond's lockdown defensive mindset, all of which culminated in the same outcome: success.
Redmond was the only one of the three to have knowledge of the Newcomer of the Year award throughout the season but set loftier expectations for her first season in the red and white.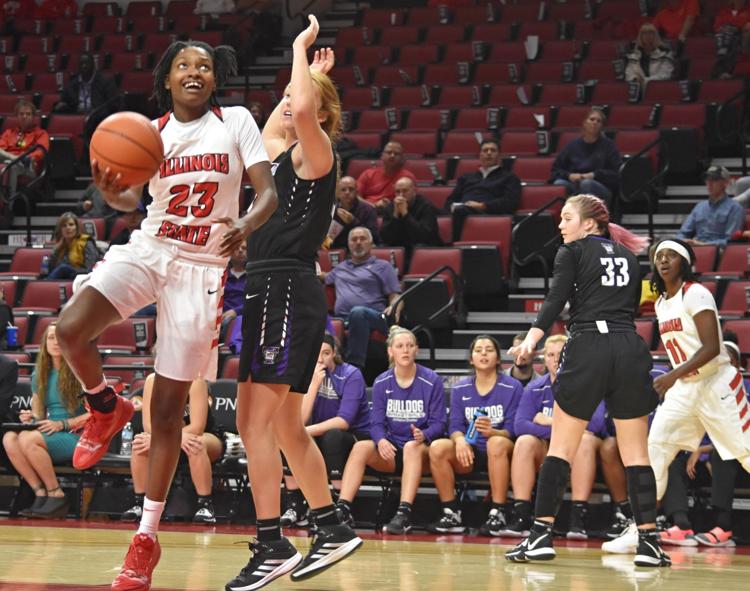 "I was shooting for Defensive Player of the Year in my first year and to be on the first team all-conference team, but I also enjoyed and appreciated becoming Newcomer of the Year because I put the work in," said Redmond.
Both Goods and Maggett each recalled having little knowledge on the first-year exclusive award.
"Honestly I don't really know if I knew Newcomer of the Year was a thing. We put in the hard work at practice day in and day out, and when I received it, it was an honor, but it wasn't really something I was aiming for. I was trying to be an impact on the team, that's what my focus was. That's just what ended up coming along with it," Goods said.
What the trio did have in common was the eagerness to play for the team first, before themselves. Redmond was grateful for winning the Newcomer of the Year award but discussed the team before mentioning any of her individual accomplishments. Goods followed suit, calling on winning games as a team being the ultimate goal.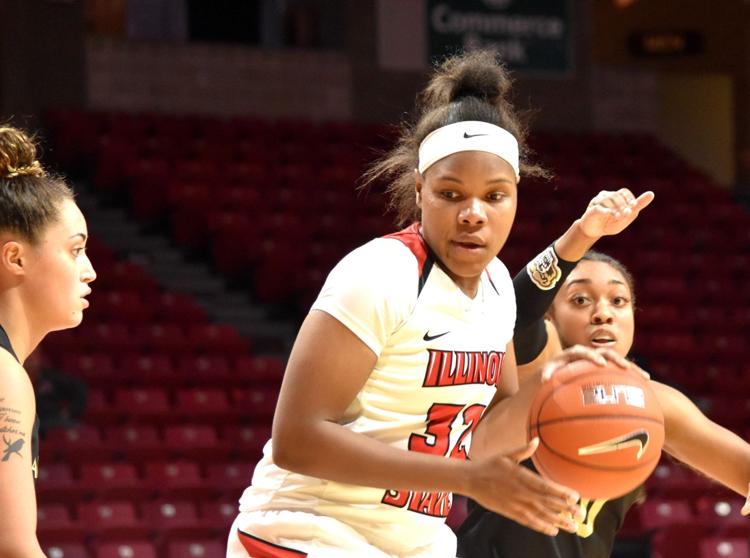 While Goods' first season in Redbird Arena was still lacking a winning record, the standard was set by Gillespie and her coaching staff.
"On my visit, we talked in depth about the changes that she wanted to make. We sat in the office, everything we talked about we did, we spoke on it and it ended up happening. She was very open and honest about what she wanted, and she stood on her word," Goods said.
As mentioned prior, Goods was referred to as laying the foundation by Gillespie for the revamped women's basketball program. Before her two years at ISU though, Goods played at Kirkwood Junior College in Cedar Rapids, Iowa.
Goods put it simply when addressing what Kirkwood did for her development as a player, "Without Kirkwood, there would be no Illinois State. It's a huge piece to my success at Illinois State."
So, the standard that Gillespie applied to her recruiting and coaching was the importance of searching and finding junior college products that could make an immediate impact on the court. By following the game plan, Goods' spectacular first season led to Maggett, who shined at Vincennes Junior College and then onto Redmond, who played at Tallahassee Junior College.
As Goods transitioned into her senior year, Maggett was fresh on the scene with plenty to showcase. Gillespie alluded to the passing of a torch from Goods onto Maggett, and then Maggett onto Redmond.
"They passed it on, Simone started it. We recruited her to help us get this program back going. The year before we got here, Illinois State won eight games. So, we really sold her, 'You're going to be the face of the program, you're going to be the one who gets the ball going,'" Gillespie said.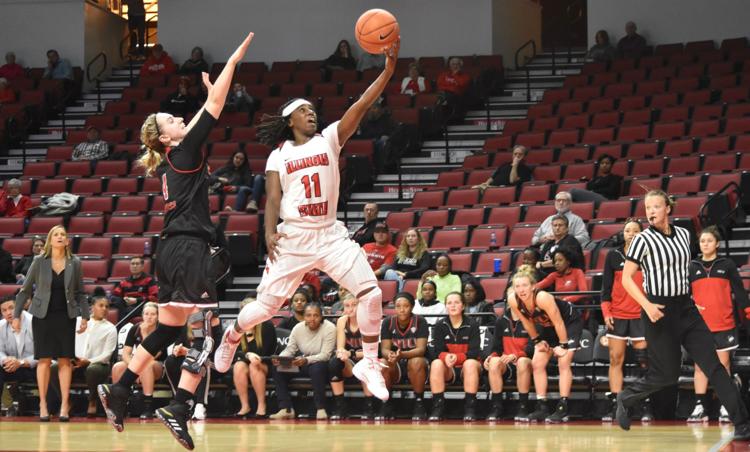 "She had a partner in crime so to speak, when TeTe joined the next year. That's been the nice thing, we have always had two years with our junior college players, so all the burden doesn't lay on just one that next year. It's something that our program takes great pride in, we've had it the last three years and that's been a huge part of our success."
While the three newcomers played quite different roles on the court, leadership proved evident from one to the other. Maggett was a tough sell upon her arrival to Normal, but with an extra effort from the coaching staff, the final straw came from her teammate.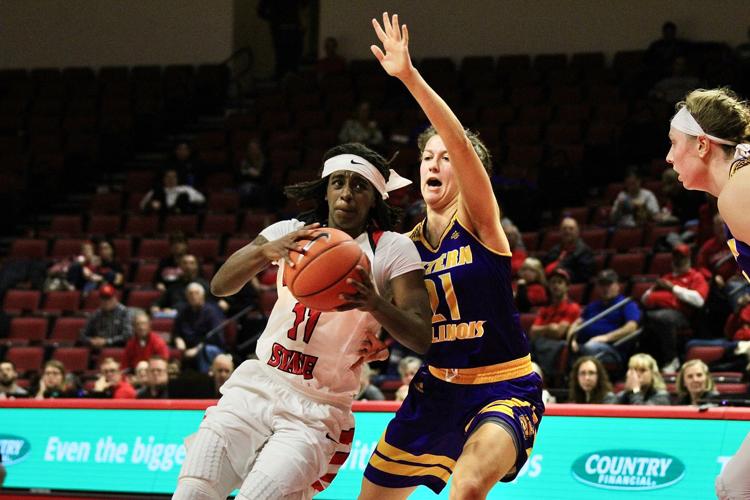 "I ran into a lot of different people and they taught me life skills and how to be a better person. They didn't really have to tell me anything but instead it was the way they did things. I saw what they did and applied it to my life," Maggett said.
"It was a collective effort to help me buy in, and she (Simone) was showing me the ropes."
Soon to follow, Redmond was yearning to get to Redbird Arena to show everyone what she was made of. Upon arrival, Redmond found her role as the first player off the bench.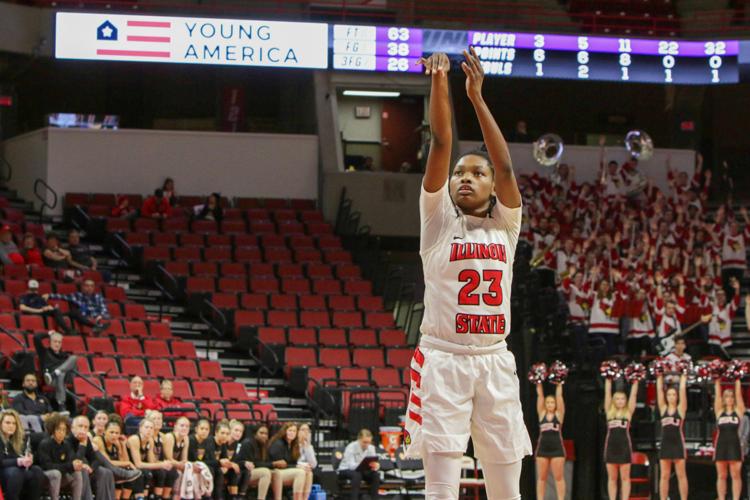 "I was trying to prove a point and also show that junior kids can come to a program and make an impact and also contribute," Redmond said.
What started the Gillespie era at ISU was a simple conversation that set expectations and built trust. Upon that introduction, respect was gained, bonds were built and winning was soon to follow.
"For coach [Gillespie] to come in and do what she did, she had a plan, she was very strategic in what she wanted to do and what she saw for the team," Goods said.
"Knowing about her knowledge and watching her coach, you just have a lot of respect for a person like that, for a person that can turn things around as well as bring everybody along and not let anyone feel left out. It takes a big person to really take on that type of role, so I will always respect coach [Gillespie] for that."
Echoing Goods' appreciation, Redmond had a similar perspective on her head coach.
"She was very honest. It was everything I was looking for in a coaching staff, I knew they loved their players and she was going to push us to be the best we could be," Redmond said.
With the three-peat accomplished, all eyes move forward to address the next newcomer in line.
Assuming many of the first-year Redbirds have set their sights on becoming that fourth woman to claim the Newcomer of the Year award, two names headline the list. Transfer forward from Mobley Junior College DeAnna Wilson, and guard Terrion Moore, who sat out the 2019-2020 season due to NCAA transfer requirements were spoken in good faith by Gillespie.
"DeAnna Wilson, the post player that we signed from Moberly last month, the neat thing about DeAnna is that she is coming in as a sophomore instead of a junior, and she is going to help us with losing Lexi Wallen," Gillespie said.
"She (Moore) is really going to help ease the hurt of losing TeTe, just 'cause TeTe was so dynamic, she was such a great scorer. Now Terrion isn't a point guard, as we call her a scoring guard. She's a great defender so she will be able to impact the game in both ends."
Redmond agreed with her head coach, expecting an exceptional season for Moore.
"I really feel like Terron should be able to step up and put the work in and be the Newcomer of the Year and keep this train going on," Redmond said.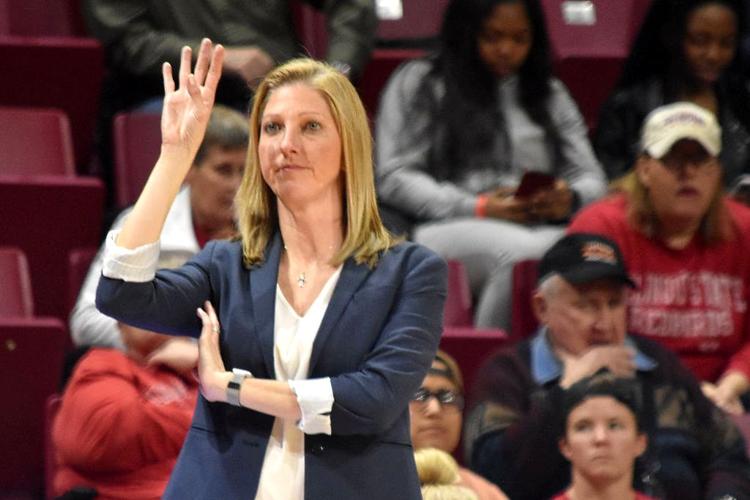 As next year nears, only time will tell who will be the next Redbird to step up to the challenge of being the MVC Newcomer of the Year, but regardless of who that may be, Gillespie has her eyes locked on another first-year sensation.
"I don't want to jinx anything, but I think we may have another Newcomer of the Year on our team. We are hoping for a four-peat," Gillespie said.