Electrifying . . . A powerful word used for those special enough to thrill fans and captivate audiences with sudden excitement. That word is not thrown around, as earning such a moniker inspires onlookers in amazement. A word that former Illinois State University defensive back Davontae Harris used to describe what he expects to do this upcoming season for the Denver Broncos. 
Donning the Redbird uniform from 2013-2017, Harris bleeds red and recalls splendid times from his alma mater. Of course, leading those memories is the National Championship appearance by ISU in 2015. While Harris was not sending shock waves through the crowd at this point in his career, the experience was certainly one he did not take lightly.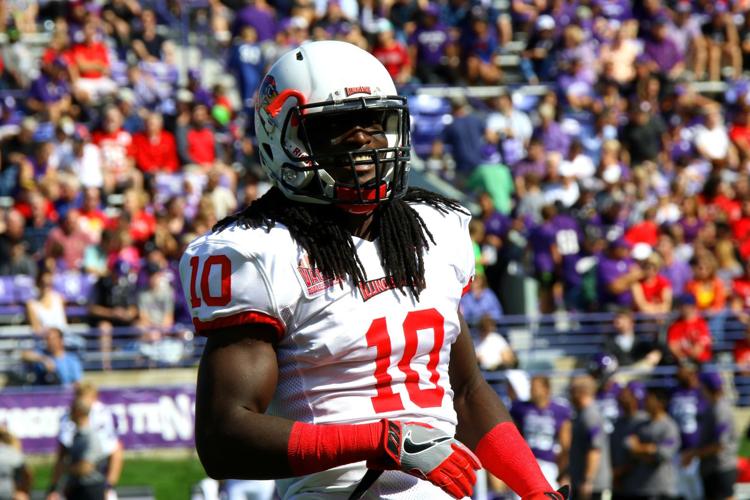 Other momentous occurrences that Harris remembered was the Chicago Cubs snapping their 108-year World Series drought in 2016. 
"When the Cubs won the World Series, the whole town went crazy, and I think that was a pretty cool moment to be a part of," Harris said. 
Harris claims to have no loyal ties to the Cubs nor baseball but having been able to experience that electrifying run the Cubs put together was a memory that Harris had not forgotten.  
A rough start accompanied Harris as he started his NFL journey. Being drafted by the Cincinnati Bengals in 2018 with the 151st pick, finding himself fighting for a roster spot, Harris' luck took a turn for the worst as he injured his knee in a preseason game against the Dallas Cowboys. Quickly being placed on the injury reserve list put Harris on the shelf for the remainder of the 2018 season.  
Fast-forward to the 2019 season, Harris heard his name called once again, but only to be cut by the team that drafted him the year prior. Harris saw this as a blessing in disguise.
"Honestly, I was at peace. I think I was at peace because I understood whatever was to come was out of my control, and whatever was to come that I did have control over I was going to make the most out of the opportunity," Harris said. 
"It didn't really hinder me mentally in many ways, just because I feel I have gone through a lot in my lifetime to where things always rebound, and you look at it the right way. I knew what I was capable of doing being a part of adversity, and I just had to figure it out and go forward." 
Move forward he did, as Harris quickly found himself picked up by the Broncos the next day. The Broncos would move Harris up to their 53-man roster, and Harris found himself in the place he expected to land in his first year.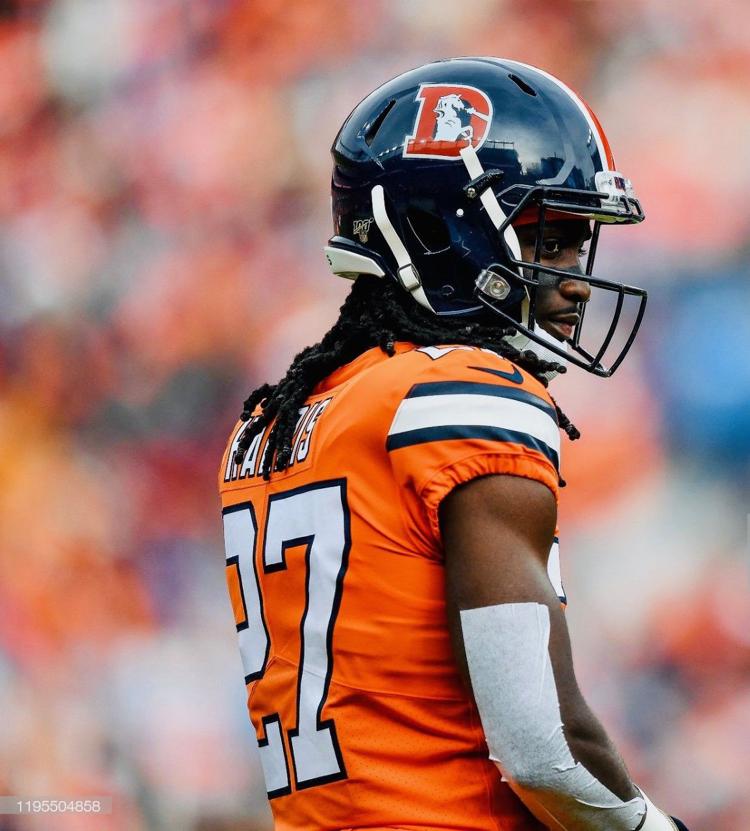 "My experience from Cincinnati was completely different than my experience in Denver; Denver is what I expected when I went into Cincinnati. When I finally got to what I expected, it felt like a place I belonged." 
Now maintaining a position in Denver, Harris credited a major difference between the Bengals and the Broncos was leadership. Although Harris spent his entire first season on the sideline in Cincy, the losing environment and locker room issues concerned Harris.  
Arriving in the Mile High City, Harris quickly made relationships with well-known team leaders Chris Harris Jr. and Von Miller. When asked who has made the largest impact on the team for him, he mentioned both Harris Jr. and Miller, calling them "two legends."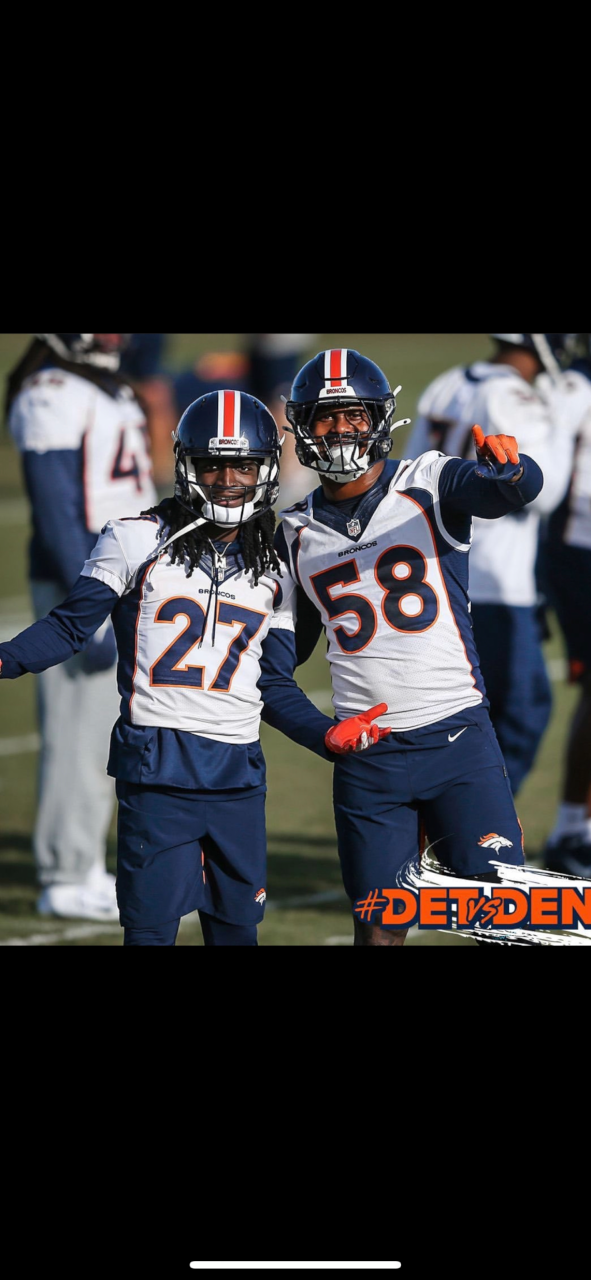 "I would definitely say Chris (Harris Jr.), he's one of my bigger mentors. He's always looking out for me, always teaching me life skills, whether it's football or if its life. He's kind of throwing gems at me without even realizing it," Harris said. 
"The other, which is who I probably hang out with more in Denver, is Von (Miller). I think he's just a really good loving guy, and he is exactly who you perceive him to be. He wants to create a good team environment and bring people in and make everyone feel welcome." 
While Harris is currently training in Dallas with mentor Chris Harris Jr., he recently sparked some conversation amongst Illinois State fans with a tweet at the university back on Feb. 25.
Wondering when @IllinoisStateU will start to invite more of their alumni for appearances. Don't have much free time these days but I can make some for the Alma Mater🤷🏾‍♂️

— Davontae Harris (@wichkid) February 25, 2020
Receiving a litany of responses from current students, alumni and other news outlets, Harris accomplished exactly what he wanted to.
"So the reason I put it out there was because I want people to see it, like you from Illinois State, or like coaches of different sports to realize that we(former athletes/alumni) have gone off to go to the NFL, or whatever our next journey is, but we haven't forgotten where we came from in regards to our alma mater that gave us the platform to be where we are," Harris exclaimed. 
"I just think it's really important for them (ISU) to reach back to the former players, so we can build a bond and a relationship even outside of going to school there. I feel like a lot of the times when you let the players leave, you call them a couple times a semester and ask for donations, but like what am I committing to, what am I really a part of? Like I gave my four years; I feel like I gave everything I had to the school, and they would want to be a part of the next journey that I was on." 
Maintaining the connection that helped him reach the limelight that he is presently engulfed in today allows Harris to give back to the place that he called home for five years of his life. The place that set the stage, that gave Harris memories, success and eventually his platform to electrify. 
No stranger to giving back, Harris is constantly in contact with his hometown of Wichita, Kansas. Leading his local charity, The Wichita Kid Foundation, Harris noted that he is grateful for where he came from, wanting to give back to the place that he loved so dearly as a child. 
At the end of the day, Harris voiced:
With his goals in place, aspiring to train harder, as well as be better and do better for those around him, pushes Harris to seize further opportunities.