Usually as a person with a lot to say, I'll do my best to keep this brief.
I never would've thought I'd be here at this point in my life. Recently, I've been putting things in perspective while trying to get a grip on what is fact and what is fiction.
Fortunately, perspectives are a witty ploy for finding truth in what you already know.
Over the course of my last few weeks as a Sports Editor, I've been paying attention to things that I normally wouldn't have the capacity to mull over.
I've come to the realization that the best things in life are not those accomplished and achieved, but rather who pushes you to accomplish and achieve.
While I am more than excited to take on my new role as Editor-in-Chief of The Vidette, I'm not going to bore you with a back story of my journalistic beginnings at Illinois State, classes I took, activities I was involved in or work I had done.
Instead, I'm going to focus on the people who made the job more worth it to me than they know, coming into work every day, enjoying what I did and will continue to do.
Because in the end, these people shaped this accomplishment. To them, I'm forever grateful.
Kade – When I met you at the end of my sophomore year, when we got our new 'flashy' jobs as Sports Editors, the first thing that stuck with me was how interesting your name was.
"Kade Heather," I thought to myself. Kind of sounds like a celebrity, or one of those graced-by-God baseball players whose names seem to have been born by their talent.
It has a nice ring to it, I won't lie.
Nevertheless, being thrown into a new job with someone you barely know is scary in itself. I mean, having any sort of leadership responsibility in general evokes some level of anxiety. I was happy regardless of the initial butterflies. We got our bearings pretty quickly.
You didn't say much in our first few weeks. You were soft-spoken, laid back and although you still are these things that make you... you, you have always been one hell of a writer.
In our past year of getting to know each other, being a part of one another's lives, going out together, travelling to and from coverages and just messing around in the office, your talent directly mirrors your diligence. I've always admired that about you.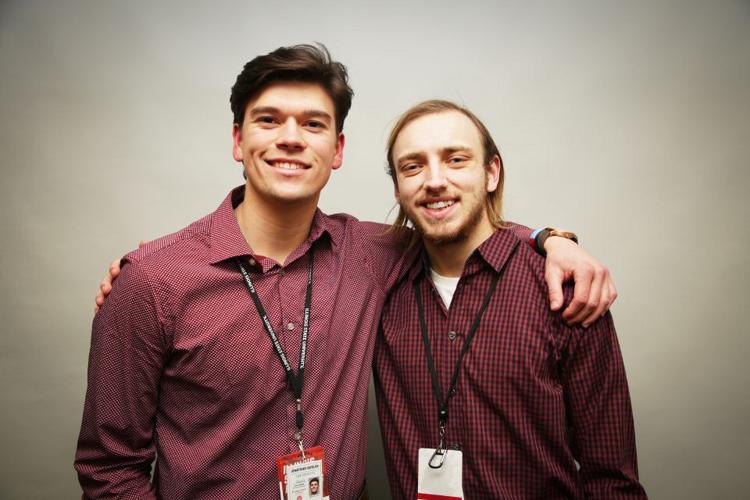 You have constantly challenged me to be better, to do better and keeping up with your level of story-telling was truly more grit than bear. Competition conjures any healthy partnership, and we both know we have the kind of bond that falls in line with brotherhood.
I get that you're a Cardinals and White Sox fan, lightly belittling my beloved Cubbies on a daily basis; a Houston Texans fan because you randomly decided for them to be your favorite team as a kid. I'll continue to Bear down.
But even with all this rivalry, there was simply nothing of the sort when it came to you and I.
You made my life, my job and the thing I love most so rewarding day in and day out. I couldn't be happier about the way things turned out this year. I wish we had more time, because I thought we really started to get the hang of this.
Thank you for being my brother in the trenches, enduring late-night production, all those long nights at Redbird Arena, those walks bracing brutal snow, wind, rain and sleet to and from games. Thank you for teaching me how to become a better writer. Most of all, thank you for giving me the competition every partnership needs.
I wish nothing but the best for you in the future. You will do great things.
Becks – With us, I really have no idea where to start.
I didn't really start talking to you until this past semester. You were smart, too smart for my taste (I thought at first), but you liked to talk music and so did I. Glad some things happen for a reason.
You were my boss, but more of a friend to me in times where we seemed to both need each other when things went sideways. You were there for me in ways you will never know, as I have always strived to make your life a little less stressful and a lot more fun.
But with that, you taught me things that I'll carry with me for the rest of my life – being level-headed, seeing the other side of things, taking responsibility and just caring when you need to care. Your work ethic is unmatched in my book. No one, and I mean no one works as hard as you do. There's no doubt in my mind after grad school you'll get that dream job writing reviews and interviewing bands I've never heard of for Rolling Stone.
Who wouldn't want Becky Fletcher on their payroll?
You were a confidant, an ally and to me you always will be. I cherish the days where it would be just us in the office, talking and laughing about things happening in our lives during a coverage, during a coffee run and the countless times you've driven me home because you didn't want me to make the cross-campus trek back to my place alone.
To you, Becky, I'm thankful for our friendship, your honesty and your natural ability to be better than what other people expect of you. The real world has no idea what its about to gain.
As both of you leave me in lieu of graduation, I know that your story isn't over. There's more lines to write, more long nights ahead and definitely more hours of thinking of headlines without me.
Thank you for everything. Thank you for making my passion turn into something I now cannot live without. I owe both of you the world for everything that we've done together. Thank you for making all the good and bad times both joyous and bearable. I will forever cherish you both as friends.
From the bottom of my heart, I leave you with this. I truly wouldn't have been able to do any of this without you guys.
Ironic that I thought that this would be brief. 1,000 words seems fitting doesn't it?