To help students to overcome some of the pressure of finals week, Health Promotion and Wellness and Milner Library hosted two final PAWSitively Stress Free events Monday and Tuesday.
Several certified therapy dogs were brought in for students to interact with.
Studies have proven that interacting with dogs helps lessen the effects of depression and anxiety. It can also help to lower blood pressure and decrease levels of cortisol — which is the body's main stress hormone.
Free chair massages were also offered to those who attended.
Sophomore early childhood education major Grace Calvin attended PAWSitively Stress Free for the first time and shared that interacting with the dogs allowed her to forget about her stressors.
"While there, I wasn't really thinking of anything — I was distracted. I wasn't really thinking about my exams," Calvin said.
It was also the first time attending PAWSitively Stress Free for freshman pre-veterinary medicine major Maddie Berman.
"I think this is a good break from the stress of school. Animals are very high-energy so it helps my mind to feel at ease," Berman said.
Freshman exercise science major Erica Coyne was very happy to be able to play with the dogs.
She had never been to a PAWSitively Stress Free event either and said she plans to return in the future.
"It made me smile a lot and it made me not think about finals that I have coming up," Coyne said.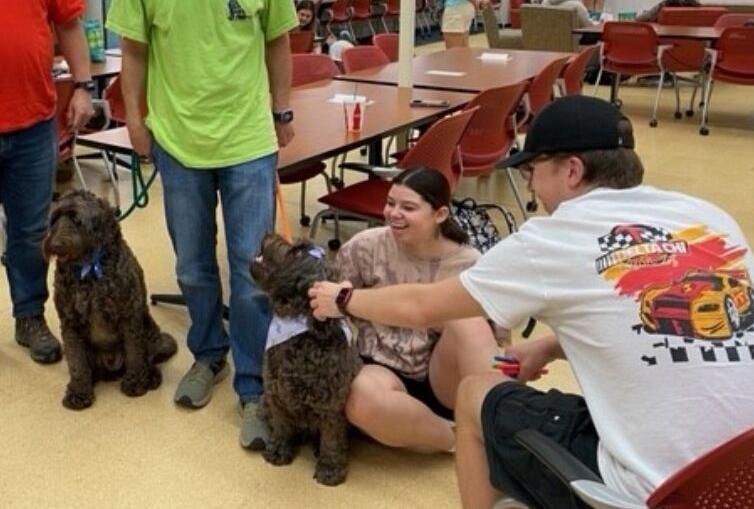 Freshman psychology major Maddie Perrault spoke about how attending PAWSitively Stress Free with her roommates has helped her to feel better about parting from them for summer vacation.
"It made me feel less stressed about finals and made me not sad about leaving my roommates," Perrault said.
Graduate assistant of Health Promotion and Wellness Samuel Omidiji explained how long it takes to train a therapy dog for PAWSitively Stress Free.
"Usually, it takes about six weeks. They come in for training and will work until the trainers are satisfied," Omidiji said.
State Farm IT manager and pet owner Kirk Samson spoke about the variety of dog breeds that are trained as therapy dogs for events like this.
"It's a variety from big dogs, little dogs, pure-bred and backyard-rescue dogs — all varieties. There's no one kind of dog that's not involved in this," Samson said.
Samson had his own dog, Theo — a labrador — with him at the event.
"Labradors are usually busier dogs, so you have to take a little more time to get them calm, versus a golden retriever, for example, might be a little more laid back," Samson said.
"The primary training is just to have a dog that likes to be out, meet people and is comfortable in various environments," Samson continued.
Samson also added that most students tell him about their own dogs back home, talking about how much they miss them when playing with the dogs at PAWSitively Stress Free.