Carmen Bolden-Day, former graduate student Jelani Day's mother, was joined by several community members at 7 p.m. Friday during a virtual town hall meeting to continue seeking justice for the Jelani Day investigation.
Over 300 individuals were in attendance of the Facebook live and the Youtube livestreamed meeting led by Bolden-Day, Rev. Jesse Jackson, Rev. Courtney Carson and others. Representatives from Omega Psi Phi Fraternity, 100 Black Men of Greater Huntsville and others were in support of seeking justice for Day and taking action toward making Nov. 19 "Jelani Day Day."
"Jelani not being here with me is one of the worst things I've ever had to go through in my life," Bolden-Day said. "The fact that we've been treated the way we've been treated throughout this the entire time that Jelani has been missing has not only been hurtful, but it has been disrespectful to Jelani and to myself."
Bolden-Day said she wants more action to be taken by the multi-jurisdictional task force consisting of members from Illinois State police, Bloomington police, Peru police, LaSalle County sheriff's and coroner's office and the FBI Behavioral Analysis Unit. The FBI has not taken over the Day case, and Bolden-Day wants the FBI to take charge in this investigation.
The LaSalle County Coroner's office declared Days death by cause of drowning Oct. 25, but Bolden-Day said he was murdered, and somebody knows what happened to her son.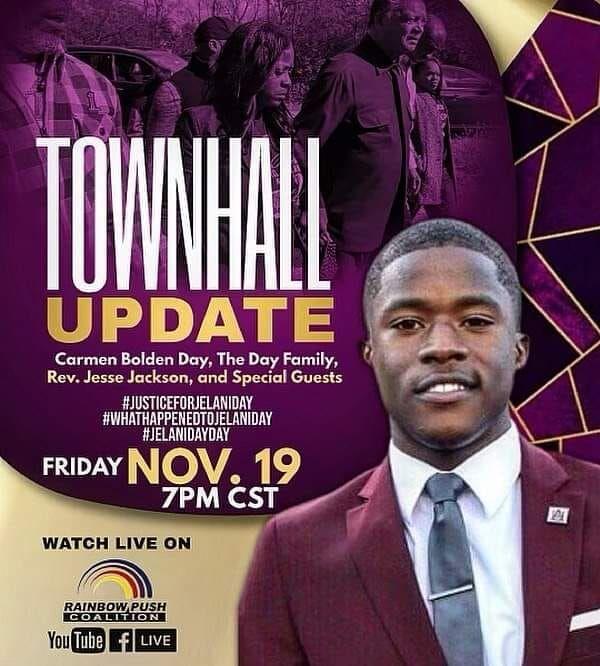 "Because my son was in a body of water, that is why they are saying his cause of death was drowning," Bolden-Day said. "I do not know what happened to my son. I do know this: he did not do it to himself. He did not commit suicide. Somebody did this to my son. Somebody knows something, and somebody is listening to me tonight, and I need you to know that we are coming for you because somebody needs to say something."
Dr. James Bryant completed the second look autopsy on Day's body, and he said given the structure of the body after the first autopsy, he could not identify it as Day.
Bryant said the only factor that revealed the body belonged to Day was the name-tag on the bag the body was preserved in.
"It was a second look autopsy of the worst kind. I couldn't tell what race he is," Bryant said. "I'm 50 years doing this kind of work."
Bryant went on to describe the state of Day's body mentioning several details that revealed the body was severely decomposed and had undergone "destructive testing" during the first autopsy.
"I've never seen one this bad. It was basically destroyed. I've handled air crashes. I've handled several truck drivers running over people, and this was the worst I've ever seen," Bryant said.
Bolden-Day said her son had no connection to Peru, Ill., and there was no reason he would drive there by himself. Bolden-Day said she is not speaking to interrupt or interfere with the investigation but to demand answers for her family and for her son.
"I have been given so much misinformation. I have been given the wrong information. I have been given the runaround. Everything sounds like a cover up, and I need answers," Bolden-Day said.
Bolden-Day shared her interactions with the multi-jurisdictional unit in detail since Day was reported missing on Aug. 25, and she said multiple times that she felt not listened to.
"I just want you all to remember this could've been your son. It could've been your nephew, your brother, your cousin, your grandson. Treat him as such because we are not exempt," Bolden-Day said. "I never thought I would be sitting in this seat. I never thought this would be happening to me. I never thought I would be having to go through this, but here I am."
While Bolden-Day said she does not understand why this happened to her son, his life will "not be in vain."  
"I will be his voice, and I will speak for him. I will stand for him, and I will make sure if anything I can do, I will make sure this does not happen to anybody else," Bolden-Day said. "I will do my best to help whoever I need to help, to change whatever needs to be changed."
The Day family is encouraging the public to continue sharing updates on social media about the Day case and continue seeking answers.