Illinois State University professor Dr. Shawn Hitchcock was awarded the Dr. Henry C. McBay Outstanding Teacher Award from the National Organization for the Professional Advancement of Black Chemists and Chemical Engineers.
Each year, the national award recognizes one STEM educator who has demonstrated excellence in contributing to educating and mentoring young scientists and engineers.
At ISU, Hitchcock's primary role is being a chemistry professor who teaches undergraduate and graduate courses and conducts research.
Hitchcock discovered his love for chemistry when taking science classes in his adolescence.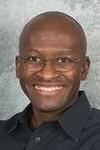 "I fell in love with chemistry when taking natural sciences back in middle school," Hitchcock said. "I had an aptitude for chemistry and math, and it just really made sense to me. By the time I got to high school, I had a chemistry teacher who was an excellent mentor who helped me have a better understanding of chemistry."
Hitchcock said that one of the most rewarding parts of being a professor is being able to guide and mentor students.
"It's very motivating and rewarding for me to see [students] get it and understand chemistry," Hitchcock said.
"The thing that is most meaningful for me is trying to provide mentorship in that same context, not only understanding chemistry, but also helping them connect it to a potential career in the future and making sure that they're on the correct pathway."
Due to his past experiences, Hitchcock is motivated to help students feel comfortable and succeed.
"As an undergraduate, I really didn't receive much guidance and it was something that held me back," Hitchcock said.
"At some point I realized that I really need to make sure that the students that I'm working with don't end up in the same situation that I had to fight my way through."
Hitchcock feels that receiving the Dr. Henry C. McBay Outstanding Teacher Award is an acknowledgment of his hard work over the years.
"[Winning this award] means a lot. It's an acknowledgment of the work that I've been doing, especially in my research lab in terms of mentoring young scientists and helping to provide them the understanding of chemistry and how it impacts their career," Hitchcock said.
"The award is a combination of teaching aspects in the classroom and then teaching aspects in the research laboratory."