Jakai Martin, a queer and gender non-conforming student at Illinois State University, was physically and verbally assaulted at an off-campus Homecoming party Saturday.
Martin, a junior sociology major, was called homophobic slurs and hit by an unidentified ISU student and member of Greek life.
They are pressing charges against the student for assault and battery and hate crimes through Normal Police and explained they chose to maintain the individual's confidentiality as the investigation occurs.
Martin has also filed an incident report with the ISU Police Department which they explained will later combine with the NPD report.
While it was initially believed that the assailant was a student at ISU, Martin revealed that it has since been discovered that the individual is no longer enrolled at the university.
Just weeks prior, on Sept. 28, members of Kappa Sigma spray-painted homophobic slurs on other Greek life houses.
Monday, President of ISU Terri Goss Kinzy addressed the recent rise in homophobic crimes on and around campus in a video message.
Across social media, an influx of support has been sent Martin's way in light of their assault.
"I am not in this alone," Martin said. "There have been other students that are sharing their stories, making addresses, tagging Illinois State University."
While Martin expressed a great appreciation for the fact that a large majority of ISU is in support, they want the university to be vocal on this topic.
Martin explained that their goal is to see real change implemented on ISU's campus for all students, especially the queer population, to feel safe on and off campus.
They added that all ISU students should be treated equally, regardless of their identities.
"This is an issue of safety. There's no reason why I'm not allotted the same safety or the same resources as all the other students that pay to go here," Martin said.
Transparency on how the university deals with situations like Martin's is something they would also like to see moving forward.
"I think it would really speak volumes if the university declared that they actively oppose queer hatred culture on campus," Martin said.
Martin outlined three demands they want to be implemented on campus regarding the safety and well-being of all ISU students in a petition started online — which has amassed over 1,900 signatures in the first 48 hours.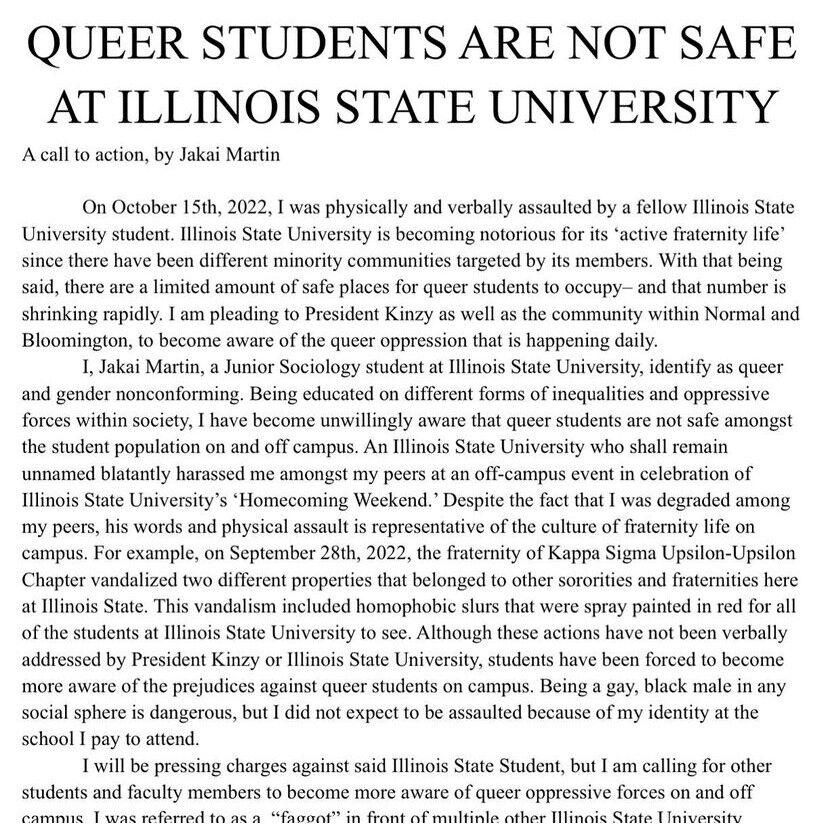 The first is centered around counseling services. Martin expressed a need for an increase in counselors available to ISU students.
They cited issues of the length of time it takes to schedule and have a counseling appointment, in that students should not have to wait long periods of time to be seen by a counselor.
Martin explained that the availability and frequency of counseling appointments must be increased in order to attend to students' well-being.
The second demand Martin issued was "a centralized space for queer students on campus that's easily accessible but to the extent that students' privacy will be respected."
Martin explained that this "centralized space" would allow other queer students to know there is a place where they are welcomed and that this would express that the university truly intends to be inclusive.
Martin's final demand is a public apology from the ISU administration. They said Kinzy's video message was not enough because they believe Kinzy did not address the issue seriously enough or to the extent required.
"She mentioned the LGBTQIA+ community one time in her entire one minute and 53-second video, so due to the fact that she very briefly mentioned the community that was impacted and she didn't allude to the core values that she supposedly spoke of," Martin said.
"I feel like the video was very neutral and very misleading to the extent that the actual issues weren't addressed," Martin continued.
Martin added that the video also neglected to share the university's future plans to address this issue.
Director of Media Relations at ISU, Eric Jome, called improving the campus environment for the LGBTQIA+ community an "ongoing process."
"[ISU is] really trying to develop and enhance its curriculum surrounding diversity and inclusion," Jome said. "As a higher learning institution, education goes into our core values. We're trying to double down on education and programs to foster discussion on why these events are so dangerous and harmful."
Jome also addressed why the administration has not discussed the specifics of Martin's case and the Kappa Sigma vandalism.
"As an institution we're looking after the sake of privacy for individuals," Jome said. "We can talk in general terms but not details about the investigation or privacy and legal matters."
Martin said that while his situation was deeply upsetting, seeing the community band together gives him hope for the future of ISU.
"People want to see this change and people are taking action, and I couldn't ask for anything better," Martin said.