Diversity and multi-culturalism highlighted the College of Arts and Sciences dean's address and awards ceremony Tuesday afternoon.
Dr. Diane Zosky, who has been the college's interim dean for four years, thanked the faculty and staff for their hard work and dedication in a speech that ended in tears.
"Every single person at the College of Arts and Sciences contributes to the vibrancy of our program," Zosky said in her final speech.
Dr. Heather Dillaway was named dean effective July 16. She currently serves as an associate dean at Wayne State University.  
Zosky said that the college is "invested in transforming our learning environments" to focus on diversity, equity and inclusion.
She highlighted the unofficial Communities of Belonging and Success pilot program that raised retention rates for native Spanish speakers from 80% to 96%.
Zosky implored the college's faculty and staff to continue this work with Dillaway as she takes on the new role.
She told her colleagues that the new dean will be in good hands, tearfully reassuring them to simply "be who you are [for her]."
One recipient stood as a highlight among the awards.
Eduard Winner, a senior political science major and native of Tel Aviv, Israel, received the Grabill-Homan Peace Prize.
Winner, who also minors in peace and conflict resolution, has interned at the American Bar Association working on international dispute resolution with lawyers from different parts of the globe.
He is also the pole vault champion of the Missouri Valley Conference.
Karen Schmidt, university librarian and professor at Illinois Wesleyan University, earned the Grabill-Homan Community Peace Prize.
Schmidt often operates the Book Bike, a community program aimed at distributing free books to Bloomington residents.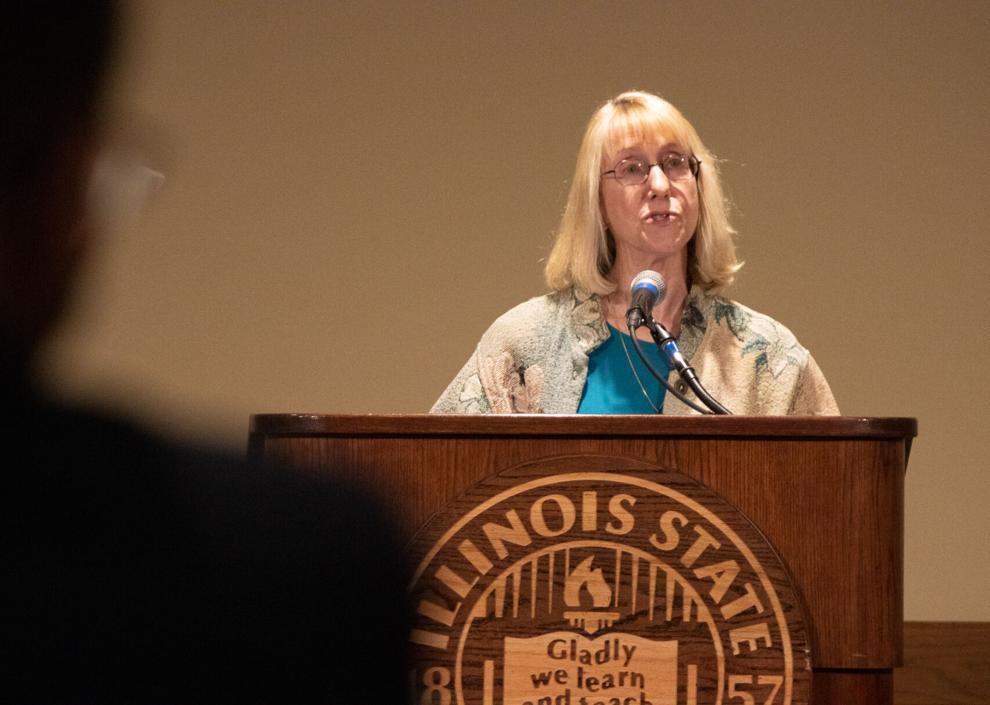 Dr. Noha Shawki introduced Schmidt saying, "Every community needs a Karen Schmidt."
Schmidt closed the ceremony by reading from "The Three Questions" by Jon Muth, an adaptation of the same title by Leo Tolstoy.
"'Remember then that there is only one important time, and that time is now. The most important one is always the one you are with. And the most important thing is to do good for the one who is standing at your side,'" Schmidt read. "'That is why we are here.'"