After winning by 42 points on Sept. 4, Illinois State football was on the receiving end of an offensive showcase in its 28-0 loss at Western Michigan.
WMU's defense completely dominated starting quarter-back Bryce Jefferson and the rest of ISU's offense. The Redbirds managed just 57 total yards and just four first downs.
ISU head coach Brock Spack puts the lack of production on the Broncos' strong line on both sides of the ball.
WMU marched down the field on the first drive of the game, going 75-yards until La'Darius Jefferson punched it in from the one-yard line. ISU's defense stayed strong until the end of the second quarter when WMU's running back Sean Tyler took it in from the three-yard line to go up 14-0.
After halftime WMU continued to dominate the Redbirds. After receiving the ball to start the second half ISU could not get the ball rolling and quietly went down with a three-and-out.
Offensive lineman Drew Bones saw the Bronco's defensive line physicality being too much for the Redbirds.
"They were all-around physical and fast," Bones said. "They did a lot of twist movements. It came down to them being the better team today. I am excited to watch the tape and see what we can improve on. There are a lot of things we can learn from today."
WMU was handed prime field position after the Redbirds had to punt from their own end zone. Starting on ISU's 49-yard line WMU starting quarterback Kaleb Eleby marched the Broncos down the ISU's 24-yard line with just seven plays. One play later Eleby connected with Jaylen Hall for a 24-yard touchdown pass.
Eleby commanded WMU today finished the game 15-21 for 174 yards and one touchdown. While Spack was impressed with Eleby's game, he credited an all-around performance from the Broncos for the dominant win.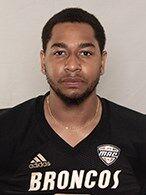 "He's a good player, he's experienced even though he is a sophomore," Spack said. "I think he is a very accurate thrower. They have good receivers for sure. The difference I see with this school from the times I have played them in the past is that they are better up front."
With the loss, ISU"s record moves to 1-1.
"It is still preseason basically," Spack said. "There are some things we need to work out. We will go through these things as we try to retool our team. Covid was hard on us particularly on defense."
The Redbirds will be back in action at 6 p.m. next Saturday at Eastern Illinois for the Mid-American Classic. ISU won the last game in the rivalry.
Despite the tough loss, Bones is looking forward to the rivalry game.
"We always like to get after our rivals," Bones said. "We love those games; they are always really fun. I heard they moved it to a night game to get more fans there... Good."