Over the last 10 seasons, Illinois State football has not been able to get the upper hand on North Dakota State.
Coming into town on Saturday the No. 3 Bison once again look to be on a warpath to the Football Championship Subdivision playoff, as the only remaining unbeaten team in the Missouri Valley Football Conference. The Bison showed why they own the No. 1 ranking in Red Zone Scoring defense with their 20-0 win over ISU.
"We stopped them a few times and forced a few turnovers. It kept us in the game. They had their back against the wall a couple of times and made them fight," head coach Brock Spack said.
After struggling defensively in the second half against Southern Illinois and Missouri State, ISU managed to put together a more complete game on the defensive side of the ball. After giving up an early passing touchdown to Quincy Patterson in the first quarter, the ISU defense stepped up with some big plays.
"I think this game we tackled a lot better," ISU safety Clayton Isbell said on ISU's improvements. "We just upped the intensity coming off the bye week. We knew the intensity would need to stay at a high level."
With the Bison knocking on the door of the Red Zone, ISU got a huge play. Looking for a first down, Patterson missed ISU safety Isbell who snuck into coverage for a leaping interception.
"That just comes from film prep and reading your keys," Isbell reflected on his interception. "I saw three go vertical, Quincy didn't see me over the top, the ball was there, and I had to make a play."
Past experience with Patterson likely helped Isbell. While in high school, the duo knew each other from quarterback camps.
"I knew what type of player he was and I was excited to play against him," Isbell noted on seeing Patterson before. "He was a hard player. I knew his throwing mechanics. Knowing his shotgun type, hard throws gave me some advantage."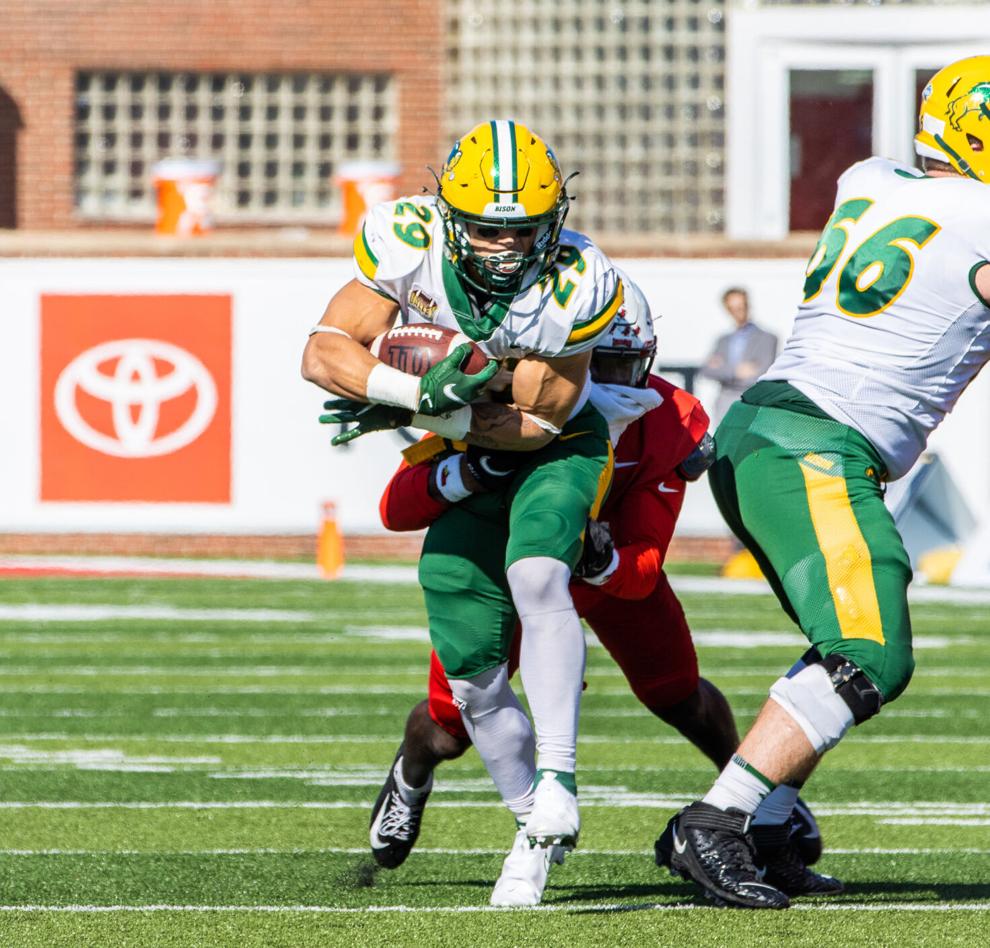 The Redbirds continued their strong Red Zone play in the second half. Marching to the Redbirds 10-yard line, Patterson was not able to rush for the first down giving the Redbirds a turnover on downs.
Despite getting a big stop, ISU's position was not much better. With 90 yards of the field in front of them, the Redbirds had a daunting task against the No. 1 total defense in the MVFC.
NDSU lived up to their billing by forcing an ISU three-and-out. Twice more the Redbirds got pinned within their own 10-yard line and twice more the Bison forced a punt.
"Being in your own end zone is always tough," freshman starting running back Cole Mueller said on the Redbirds' tough field position. "You are always thinking 'I don't want to be tackled for a safety.' You just have to get ready to hit the hole and get positive yards and give some cushion."
NDSU 10, ISU 0 | 1:58 3QRedbirds with their second interception of the game. Iberian Brown gets the tip drill interception to take the ball away from the Bison in the Red zone. #RedbirdFootball125 pic.twitter.com/nqACC3SJhK

— Vidette Sports (@Vidette_Sports) October 16, 2021
Despite improvements, ISU's defense would not be able to hold up to an NDSU squad that was averaging over 35 points a game coming into the match.
With a 13-0 lead in the second half, the Bison looked to shut it out. They got just what they needed when starting quarterback Bryce Jefferson threw his second interception of the game.
With good field position, NDSU easily marched down the field to set up a TaMerik Williams seven-yard touchdown run.
Jefferson returned as a starter on Saturday after missing two complete games and most of another with an AC joint injury to his throwing shoulder. In his return, Jefferson threw for 40 yards on 4-of-18 throwing as NDSU limited ISU to just 99 total yards of offense.
At one point Jefferson found himself on the sideline, as second-string quarterback Jackson Waring took over for a pair of possessions. Despite being taken out, Spack stressed that it was not a benching for Jefferson, but a learning moment.
"(I put Waring in) just try to get a spark and see what he would do," Spack said. "I told Bryce to stand over here and see how you're being attacked. Sometimes that works, having a guy look as a spectator. It wasn't a benching or anything."
With the loss, the Redbirds' record moves to 2-4. While the Bisons' record improves to 6-0.