Down two sets and on the brink of elimination, Illinois State volleyball came back to force a five-set win over Loyola to take home the Missouri Valley Conference Championship Friday.
The win gives the Redbirds their third straight MVC Championship, fourth straight bid to the NCAA Tournament and second conference title in the calendar year.
After losing in extra points in set two, ISU head coach Leah Johnson rallied her team to come back dominantly.
"We fought so hard in set two to lose by extra points," Johnson said. "I said 'hey we have been climbing all year. We have to be the predator. We are getting pushed and backed up over and over again. Do what you do best.'"
This win was practically a summary of the season for ISU who suffered through injuries, slow starts, hot stretches and winning.
"I feel like this year it feels very different to me," Johsnson said. "It was so much and so overwhelming. I felt like we were holding our breath this entire year going through so much adversity."
The final point as @RedbirdVB came back down two sets to none. Prondzinski's Career high 20th kill sealed the deal. #REDBIRDvolleyball 📸 | @JakeSermersheim pic.twitter.com/idbyCIzu52

— The Vidette (@The_Vidette) November 28, 2021
In the first set, Loyola neutralized newly named Missouri Valley Player of the Year Tamara Otene, allowing just one kill in 12 attempts. Set one saw an all-around powerful performance from the Ramblers who had four players with three or more kills including Emily Banitt's five.
The Redbirds struggled to keep up with Ramblers' set one efficiency. ISU finished set one with a .130 hit percentage while the Ramblers finished with a .333 over seven fewer kill attempts.
"She was at seven kills hitting about .100," Johnson said. "We gave her a different look with KP [Kaitlyn Prondzinski] and Aliyah [Moore] playing well. But their block was very good against her, they were patient they were pressed well. Later she stayed high and tooled off the block."
Set two proved to be the biggest battle for both sides.
The teams battle back and forth with neither able to take anything more than a three-point lead. ISU found itself at game-point twice, but both times the Ramblers battled back with a kill before Jenna Appel and Taylor Venuto combined for a block to take set two.
With their back against the wall, the Redbirds came out in set three and utterly dominated the Ramblers in set three. Kaitlyn Prondzinski was key during this set collecting six kills in set three to lead ISU 25-10 over LU.
"It was just showing we can play like that tonight," Prondzinski said on the third set. "The first two sets we played well but we weren't our best. We dominated that set and so we knew we could play that good tonight. It gave us more confidence."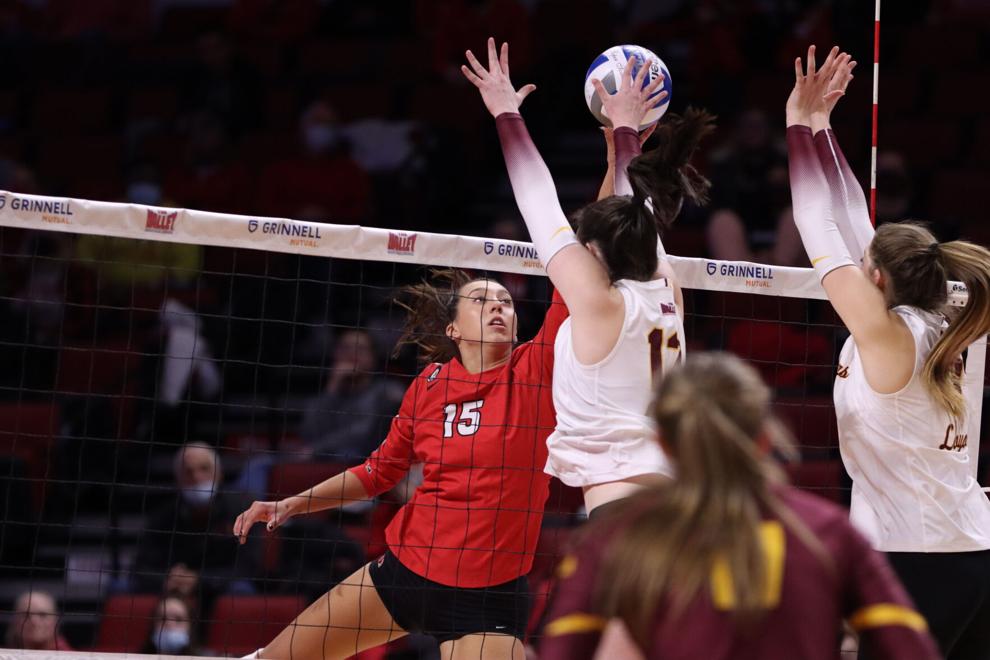 Prondzinski finished the game with a career-high 20 kills. She was one of four Redbirds that finished the game with 15 kills.
"I didn't even realize I had 20 kills I was just out there, I had no idea I had a career night," Prondzinski said on her career night. "That is not my focus, but it is awesome."
Set four proved to be a back and forth after ISU blew out the Ramblers in the previous set.
The Redbirds found the first piece of momentum as they went up 11-6. A timeout from the LU sideline flipped the switch for the Ramblers who quickly tied the game at 15.
Otene broke out of her slump in the fourth finishing with seven kills in the set doubling her game total. Backed by Otene's strong fourth, the Redbirds won 26-24 to force a fifth set.
LU kept most of the lead in the fifth until the Redbirds used a four-point run to take a 12-10 lead. Prondzinski sealed the deal with two kills out of the final three points to give the Redbirds a 15-13 win and send them to their fourth straight NCAA Tournament.
Prondzinski's career day earned her MVC Tournament Most Valuable Player. 
"Once we were all there, we got on the same page and trusted our strengths," Prondzinski said. "That has been our moto, especially the last couple of weeks, and that is what we leaned into."