While most of the nation fills out brackets and watches the NCAA Men's Basketball Tournament as fans, Illinois State head coach Ryan Pedon is working. 
The nonstop busyness of coaching at the Division I level means Pedon does not get to watch each game despite being a huge fan of the tournament himself. When possible, he cherishes the opportunity to enjoy March Madness with his son, Maddox. 
"I find myself sitting there on the couch alongside my son now instead of my dad when I was growing up," Pedon said. "Feeling a lot of the same emotions." 
But one of the emotions Pedon feels now is unique to his role as a coach. 
Missing out on the madness
"It's unsettling for all coaches who are watching it and not a part of it. But it gives you something to aim for and [it is] something that motivates me," Pedon said. 
After competing in March Madness four times as an assistant coach at Ohio State and twice at Butler, Pedon is exceptionally familiar with the national stage and is determined to bring the Redbirds back to the NCAA Tournament for the first time since 1998. 
While the Redbirds are not playing, March is a time for Pedon and his staff to craft ISU into a program that can make the field of 68. His team may not be playing games right now, but there is no offseason for college basketball coaches. 
---
Work to be done
"I got three things going right now: it's the portal, scheduling and hiring a staff member. They're all extremely important to us. I'm working on all three actively," Pedon said.
"I don't want to seem like I'm trying to get one done before the other because I'm not. But I want to make sure we are really doing our job with our roster first," Pedon continued.
Building a roster certainly sticks out as a pressing issue for the ISU, but the equal importance of the items on Pedon's to-do list cannot be lost. 
The Redbirds have seen three players from the 2022-23 roster enter the transfer portal since it opened March 13.
Joe Petrakis, Alston Andrews and Liam McChesney — a heavy contributor for the Redbirds last season — have all made themselves eligible to find new homes. The trio joins what Verbal Commits reports to be over 800 DI players that have entered the transfer portal this spring.
While ISU has a strong incoming freshman class, it will be taking advantage of the portal to add talent that has been tested at the collegiate level. 
ISU has just two nonconference games scheduled for the 2023-24 season. Pedon will honor an earlier contract to play Northern Kentucky at home this fall.
He showed a strong value for playing in-state opponents in his first season and will build on that next season when ISU hosts Eastern Illinois after facing the Panthers on the road last year.
Other than those two contests, the schedule is wide open. 
As for the coaching vacancy, assistant Walter Offutt is no longer on staff after not appearing on the bench for ISU after the Redbirds' exhibition against Wooster.
Pedon's vast network of college basketball connections makes it hard to predict where he will find his next assistant. 
---
Scouting for the checklist
Postseason tournaments, including the National Invitation Tournament and the College Basketball Invitational, give Pedon a chance to scout teams, players and coaches.
But his options are not limited to those who made the postseason. Participation in these events is not a requirement for candidates, but it could be considered — specifically for teams and coaches. 
"I'm looking everywhere for those and the fact that they'd be in postseason or not may or may not have something to do with [it]," Pedon said. "In terms of hiring a staff member, could that matter? Yeah, that could matter for sure. But I kind of have all options on the table in both those areas."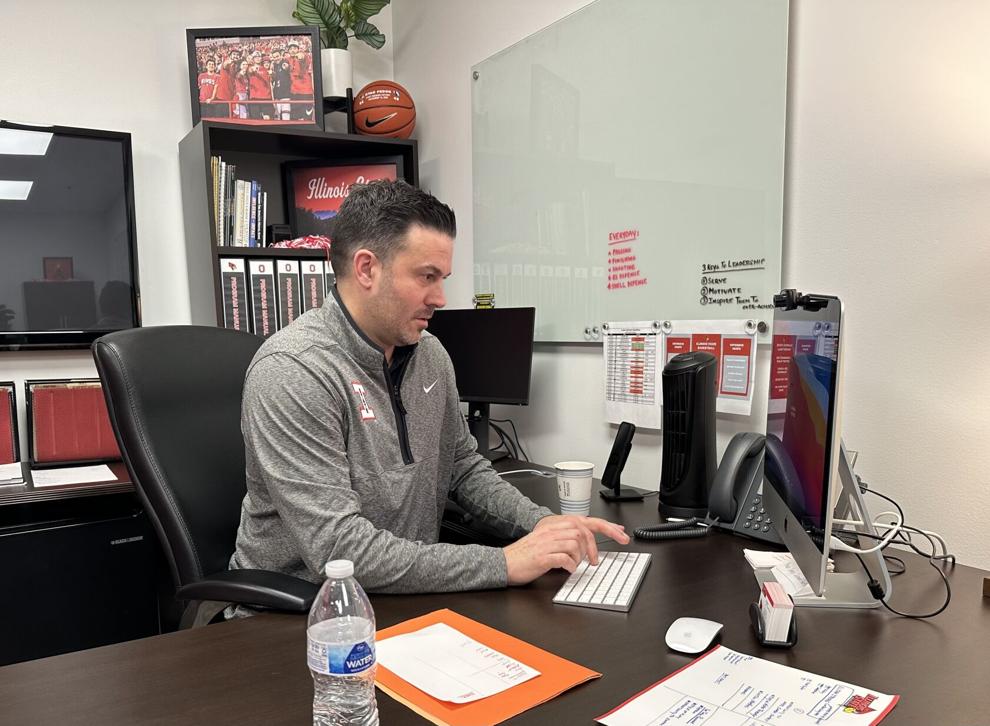 With the prominence of the transfer portal, coaches need to be on the lookout for players even before the postseason. 
"I think with all college basketball, I'm watching with more of an open mind now," Pedon said. "Trying to watch different conferences and pay attention to good players and see what makes good teams or players effective. Because you come in the springtime, and you might be recruiting them."
---
Coaching takeaways
March Madness is an inspiring time for a coach at the helm of a mid-major program. This year alone, Fairleigh Dickinson and Princeton have captivated basketball fans across the nation. 
"It's so special, and it's a reminder for all of us of just how impactful sports can be," Pedon said.
"Being able to rally a community with the excitement that a school like FDU has and we see it every year. I'm sure Princeton and their community and their alumni who are all over the globe — how prideful they are. It's an opportunity for smaller schools to be on a big stage, which is invaluable," Pedon continued.
Pedon knows just how impactful these underdog stories can be, not just for a school's basketball program, but for the college itself. 
"The Cinderellas — it can change their whole entire university. It can change enrollment, it can change conference, it can change visibility, marketability, all that stuff," Pedon said.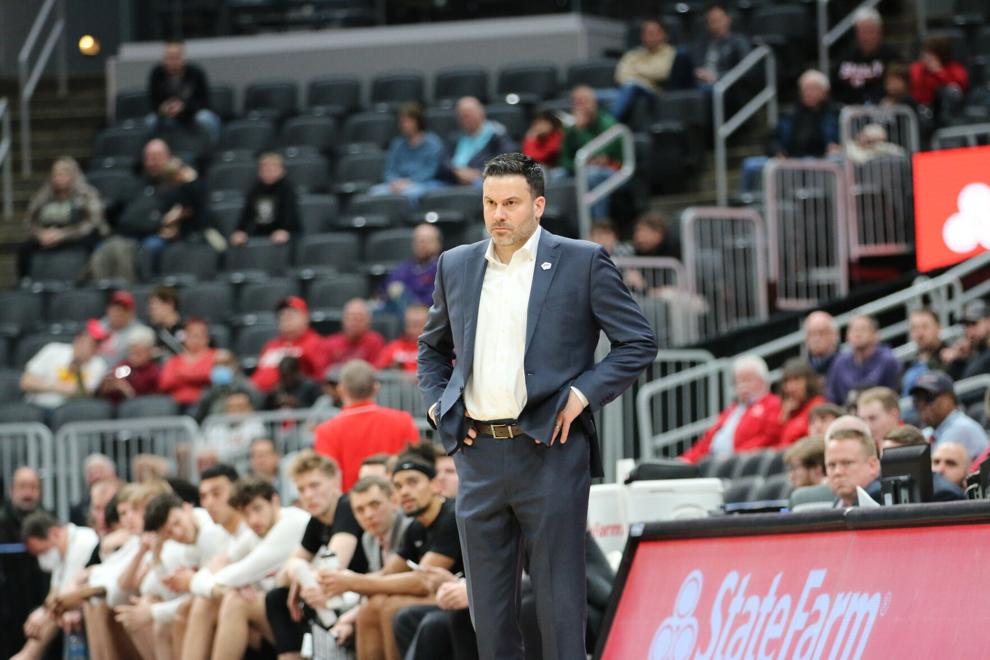 These stories can be used as teaching moments for Pedon and his staff as the Redbirds resume workouts after ISU's spring break. 
"I'll always encourage our players to take notice of who's doing well, how they got there and why they're doing so well once they are there. And, I think you have to — so much of being successful in any endeavor of life is your mindset and what you believe and how you see things," Pedon said. "I see us as a program that should aspire to be on that stage, for sure."
As Pedon builds his program while taking notes from the success stories of March Madness, he understands the Redbird faithful are more than ready for a return to the NCAA Tournament. 
"It's a hungry fan base. And that's part of what attracted me here in the first place, is it is a fan base that really cares at a high level and wants to be great," Pedon said.