After yet another impressive championship season in-conference, the Illinois State volleyball season has, again, come to an end in the first round of the NCAA tournament.
Thursday night in West Lafayette, Ind., the Redbirds fell 3-0 to the No. 6 Purdue Boilermakers in the opening round of the 2021 NCAA tournament. Despite a strong fight throughout, ISU could not stop PU's nationally ranked offense.
This is the third time in the last four seasons that the Redbirds have opened the national tournament by being swept and have lost in all four. Nonetheless, Redbird head coach Leah Johnson is thankful for her team's determination.
"I thought our team was prepared, gutsy and competitive," Johnson said. "We played better than them at some points. I am very proud of our serve and pass game, and I know that is something that will get us back here year after year with such a young team. I'm proud of our Redbirds."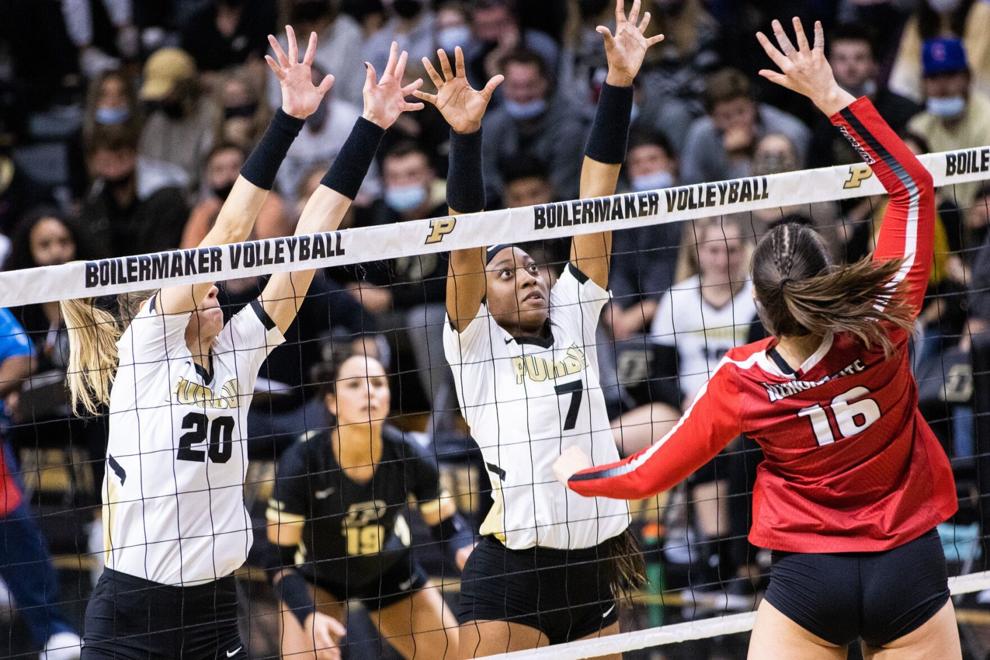 Missouri Valley Conference Player of the Year Tamara Otene opened the match with a kill following a dig by libero Kaity Weimerskirch. Following a Redbird service error, the Boilermakers took their first lead at 4-3. Purdue held onto the lead, but ISU kept up against the six-seed early on at 12-10.
The two teams traded kills as the opening set continued, and a kill by Sarah Kushner tied it up at 19-all. Down 23-20, Johnson called a timeout.
Despite a strong fight from the Redbirds to the end of the set, the Boilermakers took it 25-21 behind five kills each from Grace Cleveland and Caitlyn Newton.
"Purdue is effectively a semi-pro team playing in the college game," Johnson said. "They have fifth and sixth-year players, they're really good. There is a reason they're the six-seed. I have a second-year team by average age, and we were fearless. I'm excited to get back in the gym already."
Not letting the first set loss get in their heads, the Redbirds opened the second set with a 5-4 lead following a service ace by Nora Janka. As Purdue started to build a lead, three quick kills from Kaitlyn Prondzinski kept the Redbirds in it at 12-8.
Out of a Redbird timeout, Cleveland aced a serve at 17-12 to continue to build a Boilermaker lead. Purdue took off from there, with a kill by Emma Ellis certifying a 25-17 set two win.
Down 0-2, the Redbirds again opened set three with a Janka service ace. Yet again, the Boilermakers came from behind to build a lead and caused Johnson to call a timeout trailing by five.
Purdue did not give the lead back after that, capitalizing on some Redbird errors taking the final set 25-11 and completing the sweep on a block by Caitlyn Newton.
The Boilermakers were led by their stars, which included Newton with 12 kills and Cleveland with nine. Hayley Bush was essential to their attack efforts, recording 36 assists in the three-set match.
A big-time kill from @sarah_kushh in set three of the first round of the NCAA Tournament for @RedbirdVB. ISU currently is down two sets to none. #REDBIRDvolleyball📸| @JakeSermersheim pic.twitter.com/HBRAm5hAUb

— Vidette Sports (@Vidette_Sports) December 3, 2021
Freshman Aliyah Moore led the Redbirds in her first tournament appearance with nine kills, the team high. Moore said she is thankful for the opportunity to face off against players she once idolized growing up.
"They were expecting us to lose, and that fired me up," Moore said. "This has been amazing. I used to watch the NCAAs on TV, and now I'm playing in it. I used to watch some of those Purdue girls, and now I'm blocking them. The competitive fire in me came out."
Johnson spoke on Moore's success on the court, emphasizing her composure and effort.
"She's a stud," Johnson said. "She's phenomenal. She was composed and opportunistic, and I can see her fire. She has put in the work. Her job is to be a stud, and my job is to help her learn how to repeat it. I'm so proud of her."
Otene, despite tying the single-season kills record for a sophomore with 494, was limited to eight kills tonight and a .069 hitting percentage.
"We had the advantage to try and focus on people we thought we had to and hope that we can manage the other ones," Purdue head coach Dave Shondell said. "There were some rotations where she [Otene] got the bulk of our attention, and even then, we didn't do well early with her."
Otene's eight kills seemed larger when it was revealed only after the match that the Redbird star had possibly broken her hand during practice the day of, and still showed up for her team in its biggest game of the season.
"She is a fighter," Johnson said. "She barely trained last year because of illness, and now she's the best player in our conference. She is so tough, and it's awesome. She's humble and doesn't know how good she is, but we all know."
At the end of the road, Johnson has a lot to be proud of going forward with this young team. They may not have gotten over the first-round hump this season, but it's only a matter of time until the Redbirds show the nation what they're capable of.
"Purdue is good, that's no secret- but the Redbirds' are too," Johnson said. "The score doesn't reflect how many swings Purdue had to take, they just ended up winning consecutive long rallies and that's what separated them. I hope that separates in the rest of the tournament- because if you're going to beat us, you better go win the whole thing."
The Redbirds finished the season with a record of 19-14.